It has been just over a week that OnePlus 3T has come out in the market. And talks have already come up in the market that it is going to give the famous brand a run for their money. One such close battle can be noticed between OnePlus 3T and Samsung Galaxy S7, both the devices being made available in the market not for too long. Here we are going to pit the two flagship against one another in Samsung Galaxy S7 vs OnePlus 3T.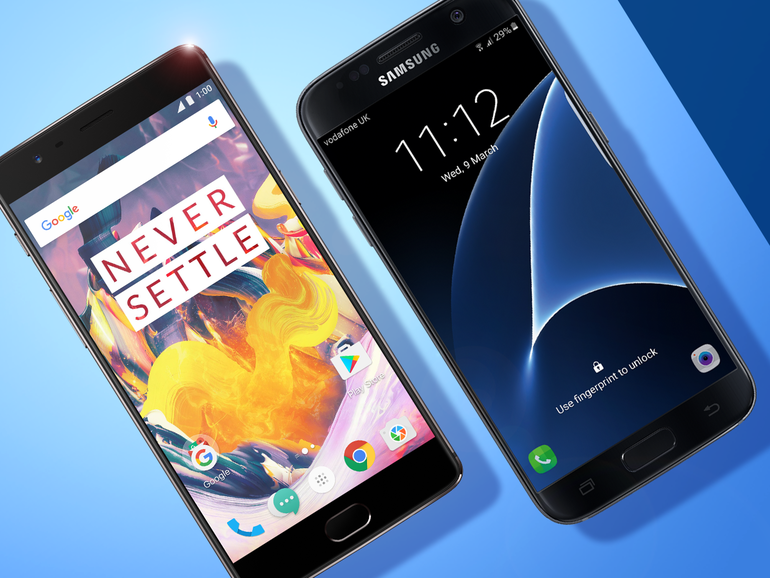 Samsung Galaxy S7 vs OnePlus 3T: Design
The OnePlus 3T which was officially launched on November 15 has quite a good appearance when it comes to outward appearance and design. The Samsung Galaxy S7 comes with an IP68 certification which makes the device dust and water resistant. Other than that it's neck and neck between these two devices. OnePlus 3T is a bit thinner than the Samsung Galaxy S7, and it comes with a USB-C port while the flagship device from Samsung persists with the microUSB connectivity. The Samsung Galaxy S7 has a 5.1-inch display whereas OnePlus 3T will have a 5.5-inch display. But there is very little to choose although Samsung seems to be a bit better when it comes to toughness.
Processor
The Samsung Galaxy S7 comes with Android 6.0 Marshmallow operating system right out of the box and runs on a Samsung Exynos 8890 processor clocked at 2.3 GHz. OnePlus 3T, on the other hand, runs on the Qualcomm Snapdragon 821 processor clocked at 2.35 GHz. Samsung wins the battle hands down as Exynos processor is much better than a Snapdragon processor when it comes to speed
Features
The OnePlus 3T has got a 5.5-inch display which supports a display resolution of 1920 x 1080 pixels. Samsung Galaxy S7 supports a 2560 x 1440 pixels display in its 5.1-inch display screen.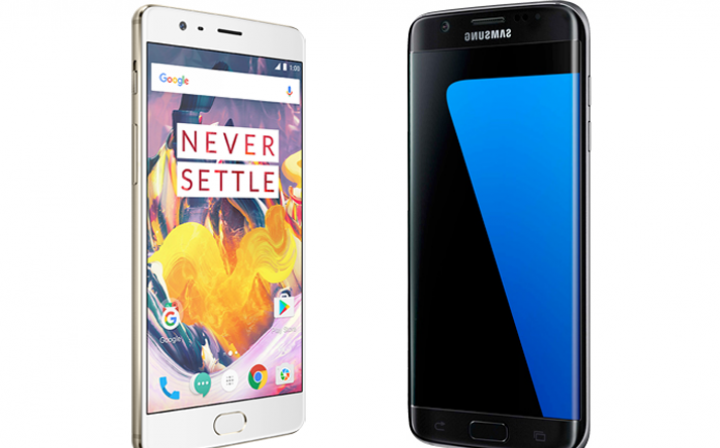 Samsung Galaxy S7 vs OnePlus 3T: RAM & Internal Storage
When it comes to RAM, OnePlus 3T enjoys a big lead over Samsung Galaxy S7 since the latest device from OnePlus is going to have a 6 GB RAM and the one from Samsung has a 4 GB RAM. So although Samsung Galaxy S7 has got a better processor, OnePlus 3T might turn out to be a better bet due to a better RAM. The default version of OnePlus 3T has got an internal storage of 64 GB which more than 32 GB of Galaxy S7. Although a 64 GB version was supposed to come out in the market, no signs have been received yet. However, OnePlus 3T does not provide the users with expandable memory. But Samsung Galaxy S7 has a microSD card slot which enables the users to expand the external storage up to 256 GB.
Camera
Samsung has always been a trendsetter as far as the camera in the smartphones is concerned. The Samsung Galaxy S7 has a 12-megapixel rear camera which assisted by a f/1.7 aperture and OIS. The OnePlus 3T will be a having a 16-megapixel camera with f/2.0 aperture. Clearly, S7 has the edge over OnePlus 3T on this front with a f/1.7 aperture although OnePlus 3T bears a Sony IMX298 sensor and a better megapixel count.
In the front, OnePlus 3T provides a 16-megapixel camera whereas Samsung Galaxy S7 provides a 5-megapixel camera.
Battery
The OnePlus 3T comes with a 3,400 mAh battery backup, and the Samsung Galaxy S7 comes with a 3,000 mAh battery. S7 comes with a Quick Charge 2.0 technology which enables a 60 percent charge in half an hour besides wireless charging facility. The OnePlus 3T battery promises to last throughout the day, and the Dash technology provides a full day usage with a 30-minute charge.
Samsung Galaxy S7 vs OnePlus 3T: Price
The 64 GB sim-free model of OnePlus 3T will be available at $495, and the 128 GB model comes at around $545. The sim-free Samsung Galaxy S7 is available on the market with a price tag of $620.
Conclusion
What can be derived from the comparative study of the Samsung Galaxy S7 and OnePlus 3T is that, both the devices are very close to each other. Samsung Galaxy S7 wins the battle when it comes to the durability of the device but OnePlus 3T is not too far away. It is definitely going to give Samsung a real tough challenge in the upcoming days. Other smartphone making brands should also brace for a tough competition from OnePlus in the near future.