Samsung W2017 Android Flip phone has finally made its appearance in the Chinese market after all the rumours that have gone into the air for quite a long time now. But all the speculations came to an end when Samsung released it precisely a year after the release of the W2016 flip phone.
Samsung W2017 features
Samsung W2017 is all set to sport two display screens of 4.2 inch, one on the inner side and the other on the outer. The screens will have a 1080p super AMOLED display and a fingerprint sensor with Always One Screen On facility. The second product in this flip series will be equipped with Qualcomm Snapdragon 820 processor and run on Android 6.0.1 Marshmallow operating system.
The phone will have a RAM of 4 GB and an internal memory of 64 GB. The phone will also bear a dedicated micro SD-card slot for the storage expandability up to 256 GB. It will support a dual-SIM functionality and 4G LTE connectivity. The rear camera will be of 12 megapixels with f/1.0 apertures and 4k video recording facility. It will also have a 5-megapixel selfie camera. Samsung W2017 will come with a battery of power 2300 mAh which will have a wireless charging service. The dimensions of the device are set at 127.8×61.4×15.8mm and will weigh around 208g which is primarily due to its metal body.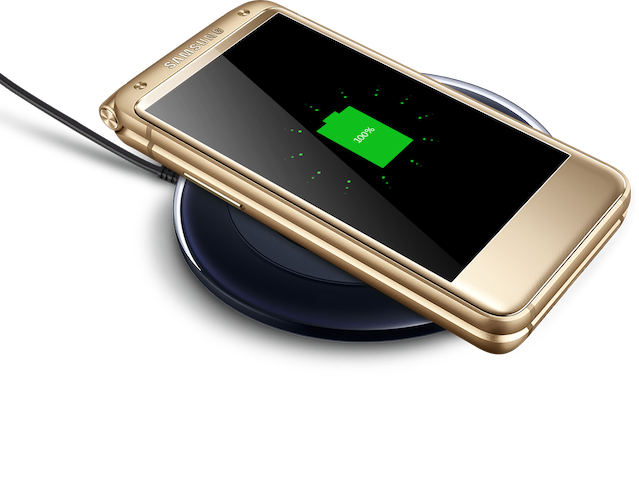 Samsung W2017 Key Specs:
Display: 2-inch super AMOLED
Resolution: – 1080p
Processor: Qualcomm Snapdragon 820
RAM: 4 GB
Rear Camera: 12 Megapixel with f/1.0 apertures and 4k video recording
Front Camera: 5-megapixel
OS: Android 6.0.1 Marshmallow
Internal Storage: 64 GB
External Storage: 256 GB
Samsung W2017 price:
Samsung W2017 is expected to come at quite a high price, that too only for the Chinese markets although everything is still in a stage of speculation for nothing has been announced on behalf of Samsung. It will have a price tag around 2000 CNY which is equivalent to $2,953. This is bound to make it even more expensive than its previous model which had a price tag of 9,999 CNY or $1,476.
Samsung W2017 is set to take the world of gadgets by a storm, but the fact that it will only be available in the Chinese market is quite disappointing. But nonetheless, it will be yet another landmark device in the current market of smartphones.