On Tuesday, Whatsapp announced the mass rollout of its video calling feature, which had been in beta testing till now. With this move, WhatsApp has brought encrypted video calling facility to over 1 billion of its users worldwide, enabling them to make face-to-face calls despite the distances between them.
With this latest development, Whatsapp announced itself a major contender to Skype, who was the first major player to offer video calling functionality to users.
Still considered the supreme provider of video calls among a majority of people, lots of companies have recurred to Skype's video call element as it is the ideal 'tool" to use for live meetups. Users have the IM feature as well as the voice call one. Skype can be set up on home computers, tablets, Smart TV even and handsets. The app functions on a wide number of operating systems like Symbian, Mac, Chrome, Linux, Window, Blackberry and iOS. Skype requires a Microsoft Outlook account or phone number for you to sign-in. You can also use your old Skype id as well to log-in. With Skype, you can make video calls, leave video messages and send text messages as well. In the case of a poor Internet connection, the app itself will ask you to turn off your video in order to continue the call.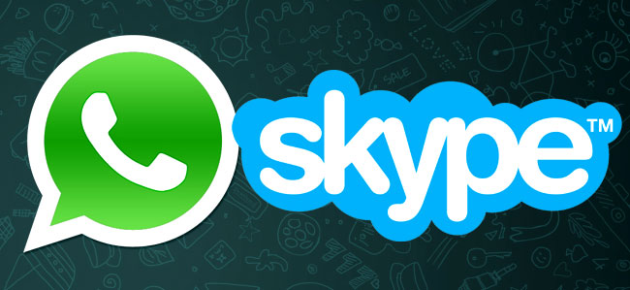 Whatsapp, on the other hand, has easily become one of the most used applications in the world exceeding a user count of 1 Billion with its IM and voice calling service. A very easy to download app, users only need a validated cell phone number to create a WhatsApp account which is incredibly convenient and fast to setup. The major pluses for the new video calling feature rolled out in WhatsApp is that the quality will be optimised for networks in India. So WhatsApp will automatically figure out if your network connection is poor or a really good one, and adjust video quality according to this. It will also let users switch from front to back camera in the middle of a video call. Users can also send a text message to the person without disconnecting the video call itself. The video call feature will work across platforms for users.
Now, another question which will come to a consumer's mind is that which application will be the overall money saver or in today's terms, data saver. Gadgets.ndtv had conducted a statistical experiment on the amount of data being consumed by Whatsapp and Skype for 4-minute calls using each app.
All calls were made on Vodafone 3G network in Delhi-NCR telecom circle. The amount of data consumed was calculated as an average of 3 calls made using each app. The results stood at Skype consuming  an average of 12.3MB of mobile data during video calls while Whatsapp consumed 12.74MB of mobile data.
This comparative study does show that in terms of data used, there is not a significant difference between the two applications. However, in terms of video quality, Skype does have a slight edge over Whatsapp considering its algorithm's do have a deeper base owing to the fact that, it has bee the major player in the video calling industry since quite a significant period of time.