Xiaomi is all set to reveal Redmi 4 on November 4 as the teaser images posted on the website Weibo suggest. And this will bring a culmination to all the speculations and rumours that hovered around its revelation.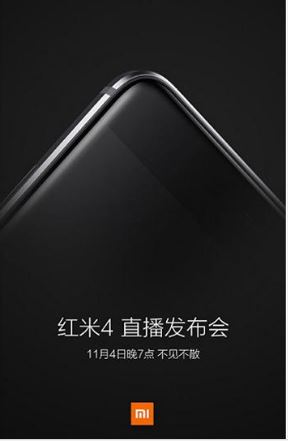 The smartphone is all set to come up with two variants, one exclusively for the Chinese market (Redmi 4) and the other one designated as Redmi 4A for the international market. The most attractive part of this phone is definitely going to be its 5-inch screen, the display of which is reported to be shot up to 1080p from 720p which featured in Redmi 3 and 3S. The latest product is all set to come with a Snapdragon processor, at the same time hoping that it's an upgraded one.
Taking the cue from its former version Redmi 4/4A promises 3 GB RAM and 32 GB internal storage. The storage is expandable as well although the proper extent of its expandability is not clear as of now. It will feature a 13 MP primary camera with dual LED flash and a 5 MP front camera. The device is also reported to be coming with a battery back-up of 4000 mAh. However, nothing can be said before its actual launch.
Xiaomi Redmi 4/4A Key Specs:
Display: 5-inch
Resolution: – 1080p
Processor: Snapdragon
RAM: 3GB
Rear Camera: 13-megapixel
Front Camera: 5- megapixel
Internal Storage: 32GB
Battery capacity: 3000 mAh
Xiaomi Redmi 4 Price
Xiaomi Redmi 4 might be priced at 1300 CNY which is equivalent to about Rs. 12,800, although rumours were spread that the device might just be available at a cheaper rate of 699 CNY. The Redmi 3 launched in January had a Snapdragon 616 processor has not been provided for the Indian market. In India the Redmi 3S priced at Rs. 6999 was launched back in August this year with a Snapdragon 430 processor and later on Redmi 3S Prime priced at 8999 came in.
With Xiaomi Redmi 4 on the verge of being unveiled, the world of gadget is all set to get a new budget phone with remarkable features.