The forthcoming CES 2017 is going to see an array of devices and gadgets rolled out by the tech powerhouses at the beginning of the year and it looks like LG has just added to their tally of Gizmos they will be unveiling at the event next month in Las Vegas. The company announced on Wednesday two new wireless wearable audio products to be unveiled at CES 2017 namely -Tone Studio wearable speakers and Tone Free earphones.
LG's Tone line of wireless earbuds — also known as "neck buds" because of the band that sits around your neck — has been fairly well-regarded for years with the company occasionally tweaking and improving the wearables for optimal performance and convenience. The LG Tone Studio features four speakers – two full range speakers on the top and two vibrating speakers on the bottom. The Tone Studio wearable speakers combined deliver a surround sound experience when watching a movie, streaming music or playing video games. LG teamed up with DTS — an American multichannel audio technology company — to ensure that the Tone Studio delivers a home theater-like experience on the go.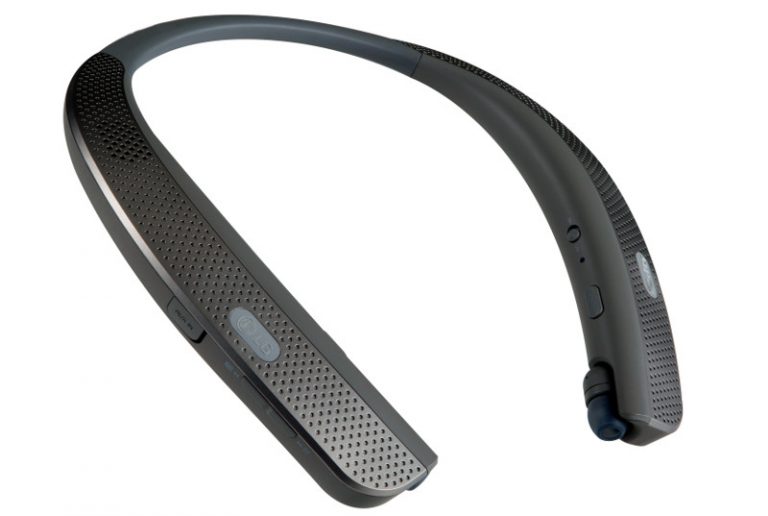 The LG Tone Studio headset features a Hi-Fi DAC (Digital to Analog Converter) to enhance sound quality by recreating audio content accurately along with Dual Play functionality that lets you connect two Tone Studio wearable speakers and share sound from a movie, playlist or more.
"LG has a rich legacy of innovating in the wearable audio market, and our products have become the standard by which all other earphones are judged. We are committed to leading the way in this fast-moving market by developing exciting new products which appeal to every music-loving and convenience-seeking individual."
-Michael Park, LG Electronics' vice president of the Innovative Personal Devices Business Division
The TONE Free has a similar horseshoe design but without the external speakers.  They are the company's first wireless earbuds that can be charged when stored inside the neckband. The neckband not only adds more battery time to the earphones on the go, but it also ensures safe keeping of the earbuds when not in use. Also, the Tone Free earphones from LG will also allow the user to answer calls hands-free using voice command.
Along with the TONE Studio and TONE Free, LG's Bluetooth headset lineup at CES 2017 will include TONE Infinim (HBS-920) with LG's Metal Layer Speaker Technology for clean, crisp sounds and TONE Ultra (HBS-820) developed in collaboration with JBL that features dual MEMS microphones. All these premium gizmos by the company will be launched in the annual event which will be held at the Las Vegas Convention Center from 5th to 8th January. Post the unveiling, we will be able to shed more light on the availability of the headphones as well as how much they might possibly cost.