The Nokia E1 is set to be Nokia's first Android smartphone and has cleared the crucial 3C (Compulsory Certification of China) phase. The new smartphone will be released in 2017 and as early as February. Nokia will look to uplift its smartphone business with the E1. The new smartphone is set to be a mid-tier phone. The listing shows HMD Global Oya as the manufacturer with the main factory listed as FIH Precision Electronics Co. Ltd which is a Foxconn subsidiary.
Nokia E1 Specs and Features
The Nokia E1 is reputed to have a 5.5-inch display with full HD (1920x1080p) resolution. Other features include 1GB of RAM, a Snapdragon 200 SoC, and running on Android 7.0.1 Nougat. The new smartphone will capacitive keys, a front facing camera positioned at the top left side and a Nokia logo on the top right. Expect the volume controller and the power button are on the right-hand side. The front camera along with the LED flash located in the middle of the phone. Other features as stated here include a 2.3 GHz Quad Core processor, 32 GB storage options, a 20 MP rear camera complementing the 5 MP front camera and a 2700 mAH Battery. Unlike previous reports, the Nokia E1 will not sport any fingerprint scanning devices, will not feature quick charging and will not be waterproof. The screen will be protected by Corning Gorilla Glass. Other features include an Accelerometer, a Proximity Sensor, Compass and a Gyro Sensor.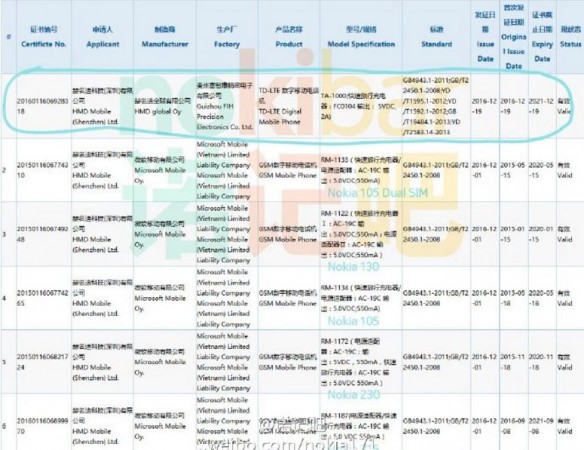 Nokia E1 Price and Launch
The Nokia E1 does not boast of very impressive features and we expect the new smartphone to be priced at less than $100. The new smartphone will be showcased at the Mobile World Congress (MWC) 2017 which is scheduled for the end of February. The Nokia E1 will be showcased alongside two Nokia D1C smartphones, which are expected to have better and more expensive features and will possibly be priced higher.