Beijing-based Chinese electronics major Xiaomi is set to unveil a new and updated Xiaomi Mi Notebook Air after it was first launched earlier this year. The ultra-thin new laptop boasts of impressive features and is expected to release on December 23, just before Christmas. A post on Xiaomi's official Weibo page confirmed this. The original Mi Notebook Air laptop resembled the Macbook Air both in looks and obviously by name. The new iteration will look for value differentiation. The new Xiaomi Mi Notebook Air laptop will have 4G VoLTE connectivity built in.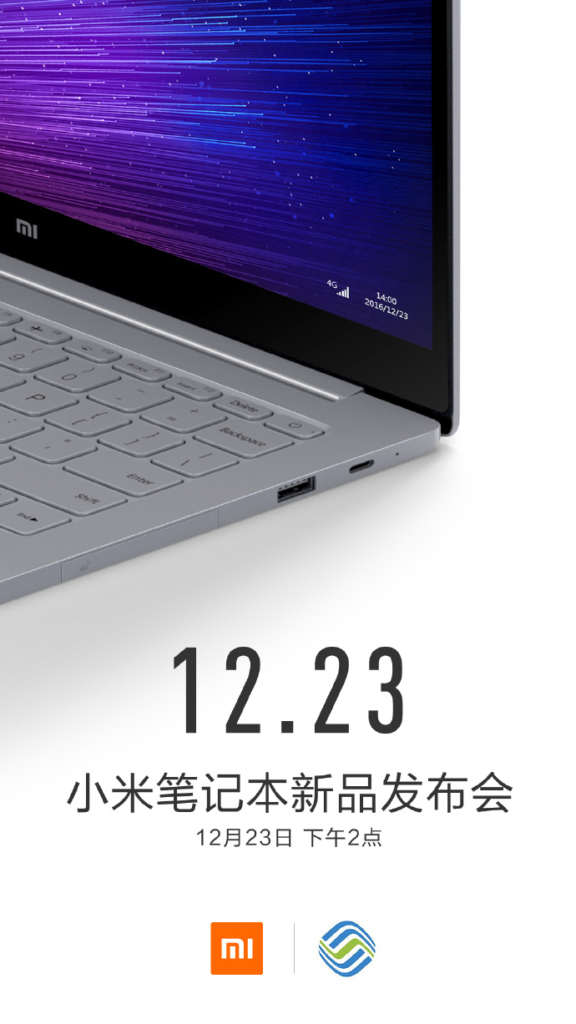 Xiaomi Mi Notebook Air Specs and Features
The new Xiaomi Mi Notebook Air will be an ultra-thin laptop with a Sim card slot, as seen in the image above. Not much is known of the new laptop, but we can make some educated guesses based on the first generation laptop and the competition. The original Mi Notebook Air came in two versions, with full-HD 12.5-inch and 13.3-inch displays. The new laptop will have a QHD or a Quad HD resolution of 2560 x 1440 pixels, with four times the definition of standard HD. We take the specs of the bigger 13.3-inch display laptop as a benchmark on which the new laptop will be based. It features an Intel i5 6200U CPU, 8GB of DDR4 RAM, a Nvidia 940MX graphics card with 256GB PCIe solid-state drive (SSD). The PCIe or the Peripheral Component Interconnect Express is used to connect wireless adaptors, solid state device storage and other performance boosters to enable better performance. It ran on Windows 10. Other features include an HDMI port, two USB 3.0 ports and 3.5mm audio jack; a USB Type-C port for charging is available as well. However, the 12.5-inch version came with only one USB 3.0 port. Both the laptops have backlit keyboards a la the MacBook Air, to which decriers often compare it. The laptop is available only in China and is priced at CNY 4,999 or Rs 48,700.
Xiaomi Mi Notebook Air: Other Details
It was known for some time that an updated Xiaomi Mi Notebook Air laptop was on the cards. GizmoChina confirmed the launch date after it received an invite. The original Mi Notebook Air is only available in China and we hope to see the new version in India as well. Two major differences are the addition of the network connectivity indicator on the display, indicating 4G VoLTE connectivity. We expect integrated support for 4G SIMs, making it an all-in-one device. Second, the image shows the Mi logo right next to the China Mobile logo, indicating that the 4G VoLTE support will only be provided by the Chinese telecom giant. Intel's Kaby Lake processors may also be added. Not much is known apart from these few nuggets at this moment, but we expect to have more details by Christmas eve.