With the setting in of the New Year, a number of news and updates have come up from the world of technology regarding the upcoming smartphones in the course of this year. Xiaomi is one of those smartphone making brands which have managed to grab the attention of all the tech enthusiast. And the latest news has come up revealing the fact that Xiaomi might be up for the release of a new concept phone Xiaomi Mi Mix Evo in the upcoming days which has gained momentum after being spotted on Geekbench.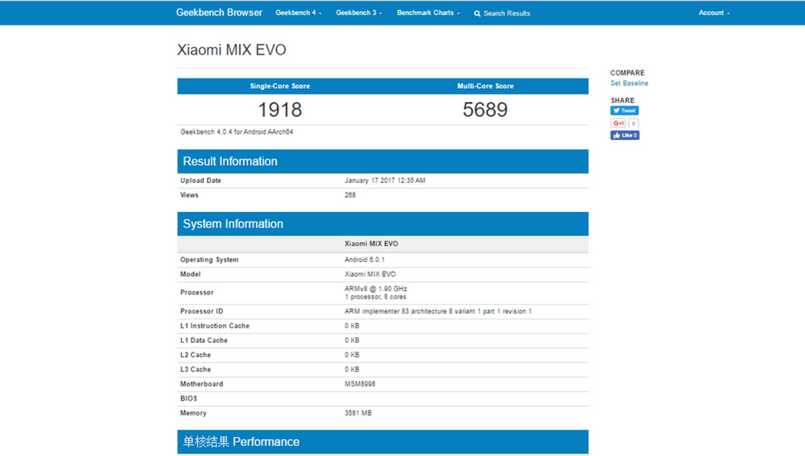 It has been noted on the Geekbench benchmark testing that the upcoming Xiaomi Mi Mix Evo will come out with a Qualcomm Snapdragon 835 chipset under the hood. The Qualcomm Snapdragon 835 processor has been lately unveiled by its manufacturer at the recently concluded Consumer Electronics Show (CES). Along with that, the upcoming smartphone is all set to sport an octa-core processor clocked at 1.9 GHz.
And the scores that have been revealed by the Geekbench benchmark testing promises the fact that the smartphone is going to be one of the best. In the single-core testing, the device has managed to score 1918 points while in the multi-core testing it has managed to score 5689 points, which is incredibly high as far as other smartphones in the recent times are concerned.
It has been revealed that the device is going to run on an Android 6.0.1 Marshmallow operating system. Other than these, nothing much has been revealed what the features of the device are going to be. And for that, we have to keep on waiting for a bit longer. We also do not know when the device is going to be launched, but the latest leak on the Geekbench benchmark testing site has promised that the device is going to come out soon.