Gionee might not have its presence in the tech world since a long period time but it has earned quite a name because of the first-rate Smartphones developed by them. And now the Chinese Smartphone manufacturing company has given an insight into the features of its latest Gionee M2017 at this year's Mobile World Congress event (MWC) which will be available at a whopping price.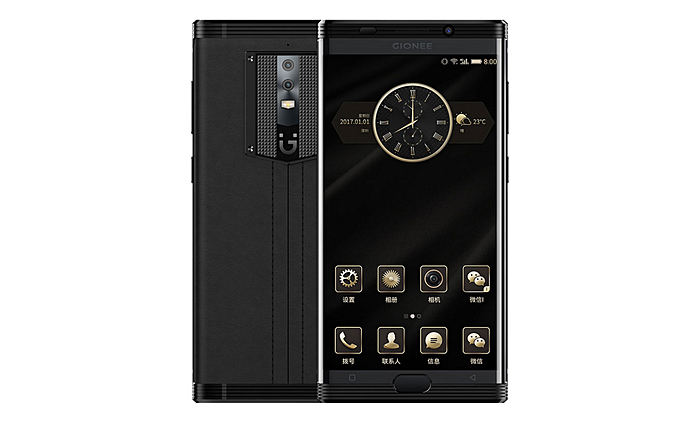 News18 pointed out that the Smartphone is priced at 6999 Chinese Yuan which comes up to Rs. 68,400. And not only that as a customized Italian leather back version of the Gionee M2017 will also be available and the device will be priced at 16,999 Chinese Yuans which a massive amount of 1.66 Lakhs according to Indian currency. The further reports also state that the Gionee M2017 will come up with two batteries which are of 3500 mAh each and 25 long hours of Video Playback feature will also be provided by the battery capacity of the device.
And as far as the display of the Smartphone is concerned, it sports a QHD AMOLED screen of 5.7-inch with a curved Sapphire glass. This has excited a lot of buyers but they would surely mull over the thought of getting their hands on the Gionee M2017 twice because of its high price rate but some of them might even feel the price of the device is legit because of the premium features provided by it.
However, the Gionee M2017 comes with an internal storage space of 128 GB and a 6GB Ram and runs on Qualcomm Snapdragon 653 processor. It a buyer is planning to shell out a massive amount from his pocket fro a Smartphone then he would definitely look out for the device's camera features. The Gionee M2017 is equipped with a dual camera feature which is of 12 MP and 13 MP rear camera and a front-facing selfie camera of 8 MP.
We right now cannot be sure of how the buyers would react to the price of the Gionee M2017 but the Smartphone might have all the chances of becoming the talk of the town if its features turn out to be excessively good.