It has been not even a month that we came across the AMD Ryzen 7 series of CPUs and the news is out that AMD is all set to come up with yet another range of CPUs. AMD Ryzen 5 is estimated to be the mid-ranged CPUs which was previously announced to be released before the end of the second quarter of the year 2017. And the latest update has come out with information that it will be on April 11 that we will be able to get the first look of the AMD Ryzen 5 CPUs.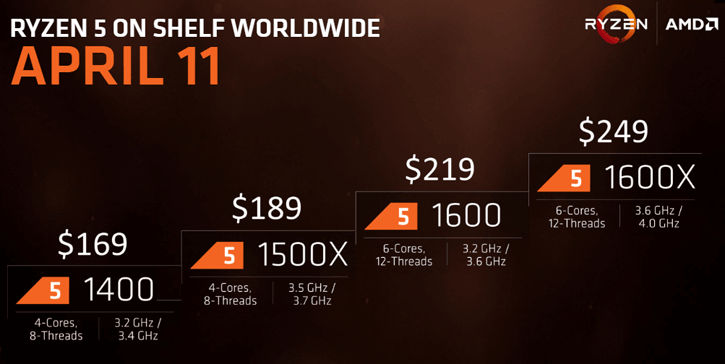 There are four new generation CPUs waiting in the pipeline to be launched on April 11. Two of the four will have six cores while the other two will be built on four cores. The two CPUs with four cores are the AMD Ryzen 5 1400 and the AMD Ryzen 5 1500X. Both are quad-core and have 8-threads under the hood. While the AMD Ryzen 5 1400 is clocked at 3.2-3.4 GHz, the AMD Ryzen 5 1500X is clocked at 3.5-3.7 GHz. The lower end comes on the market with the price tag of $169 (12,199 INR approximately). The AMD Ryzen 5 1500X comes with a price tag of $189 (13,799 INR approximately).
The high-end ones of the quartet are the AMD Ryzen 5 1600 and the 1600X. The 1600 model has 6 cores and is 12-threaded and comes on to the market with a price tag of $219 (15,799 INR approximately). The best one of the lot is going to be the 1600X model which will have 6 cores and 12 threads very much like the 1600 model. However, the 1600X is clocked at a rate of 3.6-4.0 GHz. The AMD Ryzen 1600 is clocked at a rate of 3.2-3.6 GHz. Quite obviously the AMD Ryzen 5 1600X has got the highest price tag, and the buyer has to spend $249 (18,199 INR approximately) in order to get hold of the CPU.
There are chances that AMD might bring in more number of models in this line-up. And it remains to be seen how it performs when it is put to use. Until then, we have to keep on waiting for the launch event from AMD to take place.