Chinese smartphone developers have managed to grab the headlines of the news from the field of smartphones. And the latest one that has come out reveals information regarding a pair of new smartphones which are expected to come out within a few days from the house of Meizu.

A couple of smartphones from Meizu include the M714A and M741Y. These two have reportedly appeared in the online media for receiving 3C certification. Nothing much has been revealed by the images that have surfaced online that keeps up in darkness regarding the features of the smartphones. One of the two smartphones which have received certification has also been spotted a few days back while it came out in the news for receiving the radio transmission approval. However, the M714A is completely a new smartphone that we haven't come across before.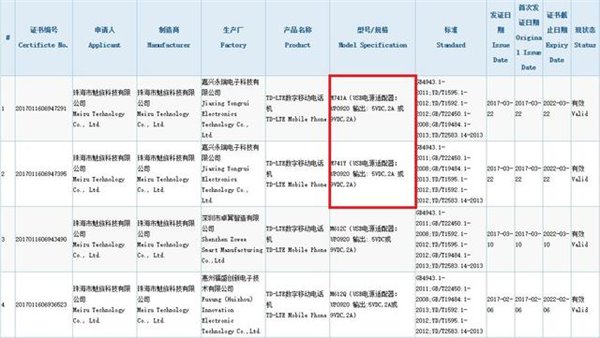 The 3C certification that these two smartphones from Meizu have received has revealed the information that the smartphones will have 18W fast charge facility. Other than this, not many things have been revealed. But it is expected that one of the two will run on an Android operating system while the other one might operate on a YunOS.
Experts are of the opinion that the smartphones are going to be two variants of one particular device, one with more updated specs and features than the other. There also opinions that these two smartphones could be the two variants of the Meizu S which are expected to hit the market in the coming month. Chances are also there that these two smartphones could be the Meizu E2.
So for the time being, everything is in a state of speculation regarding the identity of the pair of smartphones from Meizu. Only the codenames of the smartphones have been revealed. Hence, it will be really absorbing to discover what the smartphones eventually turn out to be in the coming days.