HTC has been seemingly very busy of late, thanks to a number of new smartphones that are either launched or are expected to be launched. HTC U Ultra and U Play are already out on the market. Recently we came across a new phone HTC U which is expected to be the flagship device in the U line-up. And lately, we have got yet another update stating that HTC is all set to come out on the market with a new smartphone known as HTC CBP.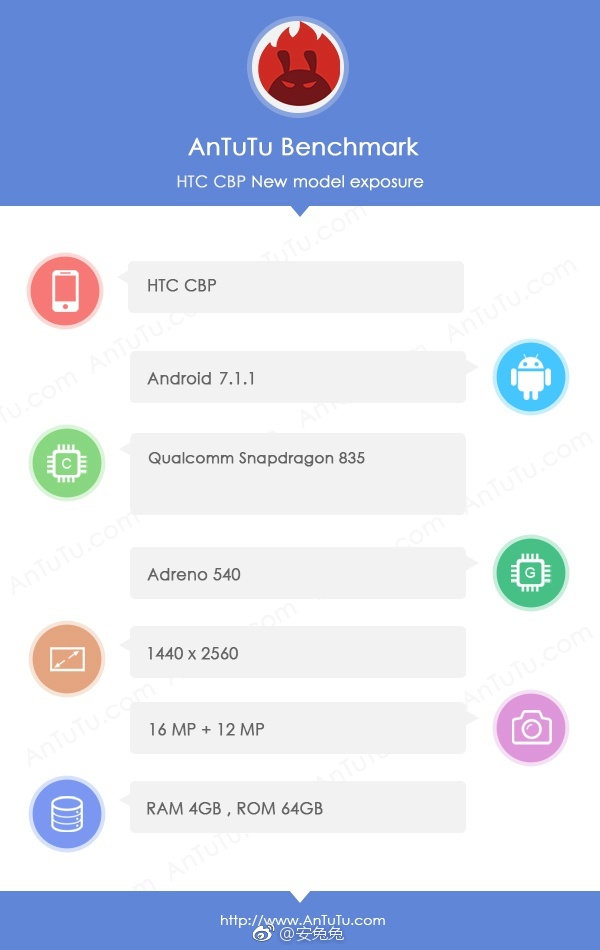 It has reported that a new smartphone from HTC has been spotted online on the website of benchmarking website AnTuTu. As the leak has revealed, HTC CBP is estimated to be one of the better smartphones of 2017. The smartphone is reported to be coming out on the market with support for the 2K display resolution which makes it one of the high-end devices. Not many smartphones that are available on the market support 2K resolution. Instantaneously, HTC CBP thus grabs the attention of the tech enthusiasts.
Not only that, but it has been revealed that HTC CBP will come out on the market with the Qualcomm Snapdragon  835 processor under the hood coupled with a 4 GB RAM. The internal storage of the device has been set at 64 GB. Whether it will have a dedicated spot for the MicroSD card has not been disclosed, and we will have to wait for that bit of information.
The camera of the device is also going to be one of the highlighting features of the device. The rear camera is going to come out on the market with a 16-megapixel lens on the back. The selfie shooter is going to be of 12 megapixels. Rumors are making rounds that both the front as well as the rear camera will have additional sensors manufactured by Sony. But that is subject to confirmation from the developers. The smartphone will have Adreno 540 GPU and will run on An Android 7.1.1 Nougat operating system out-of-the-box.
When the smartphone is going to be released on the market is not yet known. And it is believed that we are going to get an update regarding that very soon.