The Oppo F3 Plus has recently surfaced with standard, if not extraordinary, features. The new entry from the house of Oppo will arrive with 4GB RAM paired with 64GB of native storage. The Qualcomm Snapdragon 653 processor will power the device.  A smaller device, the Oppo F3, has also had its specs leaked. Both these phones have been spotted on benchmarking site GFXBench. With these two phones, Oppo will look to take its 'Selfie Expert' status to another level.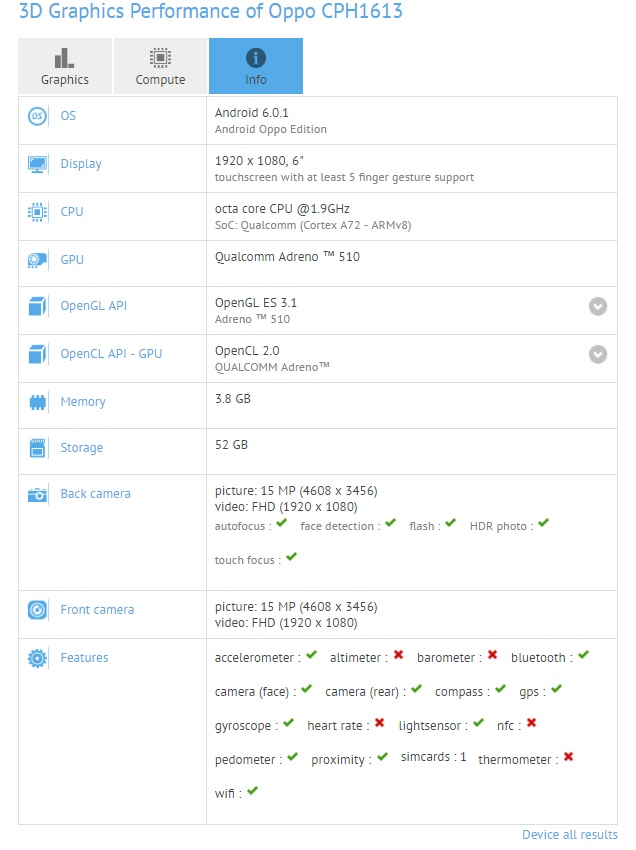 Oppo F3 Plus Specs and Features
The new Oppo F3 Plus will come with a decent 6-inch display with Full HD. The display will support at least 5 finger gesture support. The phone will be powered by the Qualcomm Snapdragon 653 SoC and the graphics will be adequately taken care of by the Adreno 510 Graphics Processing Unit or GPU. The phone will boast of 4GB of RAM which is mated to 64GB of native or onboard storage. An octa-core CPU @ 1.9 GHz is also expected. When one looks at the combined package, the phone does seem pretty impressive.
The cameras are what often separates Oppo devices from the crowd. The new Oppo F3 Plus too is no exception. The rear camera is 15MP and can take pictures with as high a resolution as 4608 x 3456 pixels. The rear camera can also capture video at 1080p or 1920 x 1080 pixel resolution. The front camera will be a dual camera setup. Only one of the sensors have been revealed and it is identical in all aspects to the rear camera with a 15 MP sensor. the front camera too will boast of being capable of taking excellent selfies.
Features of the new Oppo F3 Plus will include an accelerometer, a gyroscope, a pedometer, and a proximity sensor. One of the major drawbacks of the new Oppo is the fact that it runs on the now-obsolete customised Android 6.0 Marshmallow OS. When most modern phones run on the Android 7.0 OS, this move seems to be a tad redundant. Other features of the phone include a neat 4000mAh battery, a MicroSD card slot and a gross weight of 185g.