Acer, the global software and OEM giant, has introduced two ultra-slim gaming laptops. These top-of-the-line gaming laptops have been christened the Triton 700 and the Helios 300. Special emphasis seems to have been laid on the weight and the portability factor. First announced at the Next@Acer global press conference in New York City, both gaming laptops are said to feature the company's new AeroBlade 3D metal blade fans for cooling faster and quieter. These metal blade fans will increase airflow by up to 35 percent without taking up too much space.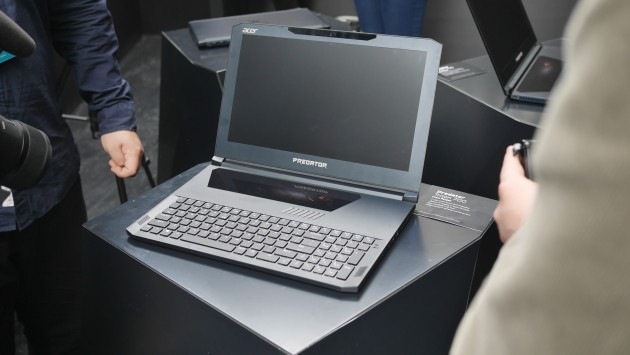 The Predator Triton 700 is the more premium model and will arrive with the experience Acer gained with the Predator 21 X, first showcased at the IFA 2016. The chassis measures a mere 18.9mm in thickness with the gross weight a little over 2 kilos.
Acer Predator Triton 700 Specs and Features
This premium gaming laptop has an aluminium body which plays host to a 15.6-inch full-HD display and is powered by the superbly efficient standard-voltage 7th Generation Intel Core i5 or i7 CPUs, aided by the Nvidia GeForce GTX 10 series GPUs, with up to a mind boggling 32GB of RAM and up to two NVMe PCIe SSDs in a RAID 0 configuration. For extra protection, we have a Corning Gorilla Glass plate right above the keyboard which also enables a transparent view of the new cooling solution and the heat pipes and which also serves as the trackpad. Thi laptop has excellent connectivity options with Thunderbolt 3 and Killer Network's DoubleShot Pro networking for dual 4K video-out support, along with two USB 3.0 ports, a single USB 2.0 port, Gigabit LAN and HDMI 2.0.A mechanical keyboard and RGB backlighting feature round off the spec sheets of the Acer Predator Triton 700.
Acer Helios 300 Specs and Features
This laptop will be made available in both 15.6-inch and 17.3-inch form factors which, together with the same cooling solution, makes it a more value-conscious buy. A full-HD display is promised. Again, the standard-voltage Core i5 or Core i7 standard voltage 7th Gen Intel CPUs, with an overclockable Nvidia GTX 1060 or 1050Ti GPU, and up to 16GB of SSD RAM. Acer has made it easier to upgrade memory and storage components. The new Acer Helios 300 gaming laptop also has Dolby Audio Premium to enhance the overall gaming experience.
The prices are standard for this segment. The Acer Triton 700 retails for $2,999 (approximately Rs. 2,03,900) from August while the Helios 300 will be made available starting July at $1,299 (approximately Rs. 88,340).