There is no doubt that taking an infant or young child's temperature can be a struggle. Kids cannot seem to sit still long enough, especially when feeling ill. So, when a new device comes along that makes that struggle a bit easier, it is my duty to spread the word.
Today, an Indiegogo Campaign launched to introduce Earmo, an incredibly accurate smart ear thermometer with one-second readings. You heard me right: one-second readings. Parents can literally hold Earmo up to their kid's ear, and at the push of a button, have their reading. With a durable non-invasive ABS plastic tip, Earmo is super gentle and no match for the squirmy kid or the sleeping baby.
Designed by Parents, Earmo is equipped with a highly sensitive infrared temperature sensor, delivering readings within ±0.4℉ / ±0.2℃. Readings can be seen vividly on the base of the device where there is a touchscreen LED display, and they are accompanied by adorable emoticons to keep parents and their kids calm and positive.
Like every new tech gadget needs these days, Earmo has a connected app available for Android and iOS, which comes with some handy tools. While up to 5 previous readings can be seen directly on the device, users can create multiple profiles for family members within the app, and keep track of all temperature readings over time — adults and children alike.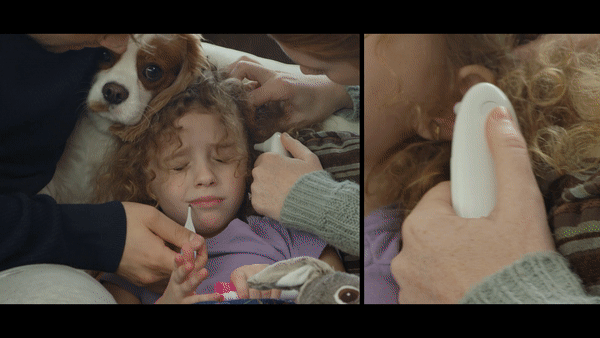 The Earmo App also helps to give parents a piece of mind with useful tips. Depending on the reading, the app will immediately give parents helpful information on combatting a fever and what to do next. And further, the app can send results right to your pediatrician to keep them up to date as well.
When you are finished using Earmo, cleanup is just as simple. The device can be effectively cleaned in seconds with an alcohol wipe — no lens filters or covers required.
Best yet, Earmo is affordable. Right now, you can get it for the Early Bird Price of $49 plus shipping.
"Grab your Earmo here: https://www.indiegogo.com/projects/earmo-the-most-intuitive-smart-ear-thermometer#/