One of the most renowned video watching applications of the world, YouTube has rolled out a toned-down version of the original application in India today named as YouTube Go. Although the application is currently in Beta stage, you can download the application from the Google Play Store. YouTube Go is primarily designed to work on slow internet speed and lets the users download videos for offline consumption as well as monitor the user's data usage.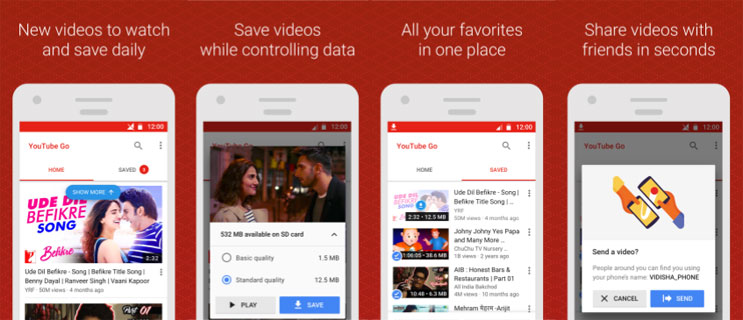 Google announced YouTube Go last fall, and the application is currently available only in India. But the developers are keen to launch the video watching application in the other emerging markets too in near future. In fact, Google has chosen India as the testing ground of YouTube Go, and is busy in making changes as per the country's tastes and requirements.
YouTube Go has been fabricated based on four main principles; to suggest relevant video recommendations based on the user's previous search history and taste, to allow the users to download video while being offline for the data consumption, to provide the app users more control over the data, and finally to let the users share videos on the various social media platforms with the help of the YouTube Go app without spending any internet data.
Not only that, the application also facilitates its users to preview the video they are willing to watch or download to save data. Also, the users will be able to choose the resolution in which they want to stream or download the desired content. So if you are interested in downloading the YouTube Go on your Android handset, just head towards Google Play Store and download the beta version of the application. The developers will soon launch the full version of the video streaming application.
On the launch event, the vice president of engineering at YouTube, John Harding said, "As we talked to people in the market, they didn't want something that felt like a stripped down version of YouTube – they wanted the full experience."
But now the real question is how much success YouTube Go will acquire, especially in the scenario where Reliance Jio is offering high-speed data at such a cheap price.