The smartphone developing brands which are based out of China have taken some giant leaps in the recent past. One of those new Chinese smartphone developers which have managed to grab the attention of the tech enthusiasts across the world is OPPO. And it seems that they are on a spree as numbers of updates has come up which state that OPPO is all set to launch a number of new smartphones on the market. The latest one suggests that OPPO R11 might just be all set to be unveiled as it has received 3C certification.

The 3C certification is one of the certifications in China which hint at the fact that the smartphone is very much in line to be launched very shortly. So the fans of the smartphones from OPPO might prepare themselves for yet another outstanding smartphone. Although nothing has been announced by OPPO regarding the release date of the OPPO r11, but the 3C certification does provide a hint to the fact that the smartphone is going to come out shortly. Also, OPPO seems to be busy with the launch of F3 and once it gets over, we might get some news regarding the official release date of OPPO R11.
The 3C certification of OPPO R11 comes within a few days of the smartphone getting listed on GFXBench. The GFXBench listing of the smartphone has revealed a lot of things about the smartphone. It is expected that OPPO R11 will come with an octa-core chipset under the hood with 4 GB RAM and 64 GB internal storage. However, it is not yet confirmed whether the chipset is going to be a Qualcomm Snapdragon 660 chipset or a Snapdragon 653. The handset will run on an Android 7.1 Nougat operating system.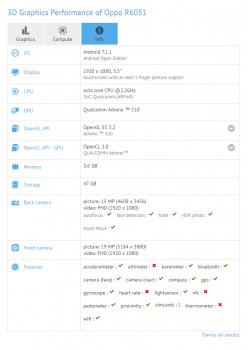 Regarding the camera of the smartphone, it can be said that the users can expect brilliant selfie photography as the front camera is expected to come equipped with a 20-megapixel lens. The rear camera is going to be of 16 megapixels. OPPO R11 sports a 5.5-inch display screen which will be supportive of a 1080p display.
It certainly sets up an interesting plot which revolves around the release date of the OPPO R11, particularly with the OPPO F3 set to be launched on May 4. To stay updated regarding any sort of an update regarding the OPPO R11, so not forget to keep a tap on this thread as we promise to bring you all the latest updates related to the smartphone.