In the recent past, we have seen a number of new smartphone developers who have made an appearance on the market and most of those have incidentally been based out of China. One of those smartphone developers who has managed to grab the attention of the tech enthusiasts across the world, we have OPPO. Of late a new model from OPPO, the R6051 has been spotted on GFXBench and it seems that it is going to be yet another mid-range device.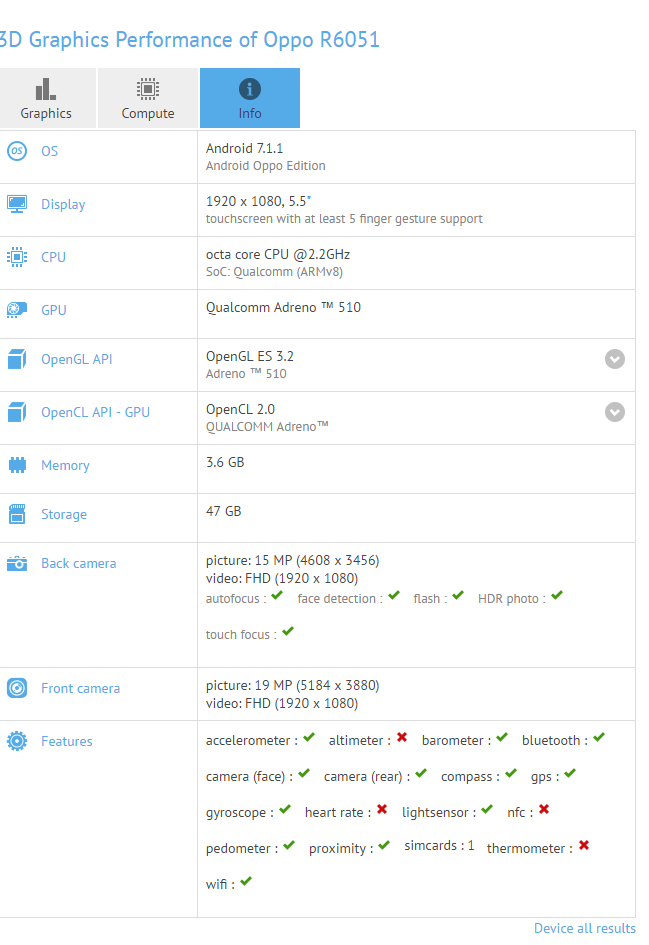 The first and foremost thing that grabs the attention of the experts regarding the OPPO R6051 is the fact that the smartphone comes with a Qualcomm Snapdragon 660 processor clocked at 2.2 GHz. If SD835 is the latest one for the high-end smartphones then the SD660 is for the mid-ranged smartphones. And that makes things much clear about the fact that OPPO R6051 will be one of the mid-ranged smartphones. Other than the chipset there are a number of things which have been revealed courtesy to GFXBench.
The device will reportedly come out with 4 GB RAM and 64 GB internal storage which is decent enough. It will have a display screen of 5.5 inches which will be supportive of a resolution of 1920 x 1080 pixels. The camera of OPPO R6051 is also quite staggering as the rear setup comes equipped with a 16-megapixel sensor. The front camera sports a 20-megapixel sensor which is equally incredible. But what is quite surprising is the fact that the camera cannot shoot in 4K.
The GFXBench testing has also revealed the fact that OPPO R6051 will be running on an Android 7.1.1 Nougat operating system. That sounds really incredible for the fans of smartphones from OPPO as the recent ones which have hit the market mostly run on Android Marshmallow operating system. The device will come with additional features of Accelerometer, Altimeter, Barometer, Bluetooth and many others.
However, nothing can be predicted regarding the release date of the OPPO R6051. But it can be predicted that some announcement is going to be made soon. Until then all we can do is wait for the time being regarding the upcoming smartphone from Samsung.