Samsung has been one of the busiest tech companies across the world for a number of smartphones, phablets and other electronic gadgets that come out throughout the year. The latest news which has emerged in the online media states that Samsung is all set to provide Microsoft with a stiff challenge in the field of 2-in1 hybrid tablets. This is because Samsung is all set to launch a new Galaxy Book which will be available in the stores in more than one variant.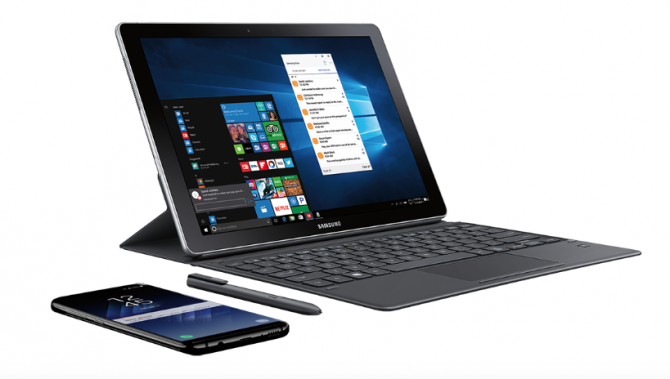 The new Galaxy Book which Samsung is going to unveil very soon will come out on the market with a 12-inch Super AMOLED display. The device will run on an Intel Core i5 CPU. The RAM of the device is going to be 6 GB while the internal storage is 128 GB. Another variant of the device comes with 8 GB RAM and 256 GB native storage. These are the two variants of the 12-inch Samsung Galaxy Book that will be available on market.
The other variant of the latest tablet which has appeared on the online media will have a 10-inch screen with a conventional Full HD display. This variant of the Samsung Galaxy Book will have the Intel Core m3 CPU under the hood. Once again two variants of the hybrid 2-in-1 device based on the storage will be available on the market. The 4 GB RAM will be constant while the two variants will have 64 GB and 128 GB eMMC storage. The storage is expandable up to 256 GB via MicroSD card.
However, the fact that the detachable keyboard comes at free of cost with the Samsung Galaxy Book makes it all the more affordable for the consumers which Microsoft does not provide its users with. Also, all the variants of the Samsung Galaxy Book come with the S Pen stylus while the basic edition of the Microsoft Surface Pro doesn't come with the S Pen stylus. Quite evidently Galaxy book holds an edge over the Surface Pro from Microsoft. Not just that, Samsung Galaxy Book comes with the Galaxy Flow software that enables the users to sync their Samsung Galaxy smartphones with the 2-in-1 hybrid tablet.
Regarding the price tag of the Samsung Galaxy Book, it can be said that it is pretty affordable. The Galaxy Book with 10-inch display comes at a cost of $629.99 (Wi-Fi only) while the 12-inch variant will have a price tag of $1129.99. The 12-inch variant which comes with an LTE connectivity features has a price tag of $1,299.99. The devices will be up for pre-orders from April 21 on the official website of Samsung and other few select retailers. The official launch of the device takes place on May 21 and will be available in silver and an exclusive black version.