Looking for the best fingerprint scanner smartphone under 10k? Then you've come to the right place. Gone are the days where fingerprint scanner was just a concept and used come in premium smartphones only. Now almost every company's smartphones have fingerprint scanners either at the back or the front. If you have a budget of Rs 10,000, then you'd be confused in choosing the best one which fits in the box of your requirements and expectations. If you are not a tech savvy, then you'll to spend a good amount of time on finding the reliable fingerprint sensor smartphone.
Also, the security of your device should be your priority and can't be neglected at all. Fingerprint sensor provides you the best security of all; you can use them to unlock your device just by putting your finger on it. No one will be able to use your device without your knowledge or permission. There are actually mobiles with poor scanning and aren't accurate. The device which you are going to use should have full accuracy and should be able to unlock your device within a blink of an eye. So in order to help out our readers, we've decided to write an article featuring the best fingerprint scanner smartphones under 10k. So here were go.
Top 5 Best FingerPrint Scanner Smartphones Under 10k
Xiaomi Redmi Note 4: The Chinese mobile manufacturer, Xiaomi has gained a lot of grip over the Indian consumers within a short span of time. Redmi Note 4 is one their recently launched smartphones in India. The device comes in three different storage variants i.e 2GB Ram+ 16GB storage, 3GB Ram + 32 GB storage, 4GB Ram + 64GB of storage. Talking about the fingerprint sensor, well, Redmi Note 4 has got one of the best fingerprint sensors. The detection and unlocking time of the Note 4 is really incredible. Coming to the display, it features a 5.5 Inch HD IPS display panel. Talking about the camera, Note four sports a 13 Megapixel camera on the back with dual LED flash and a 5 Megapixel camera on the front for taking selfies. The Redmi Note 4 runs on a massive 4,100 Mah battery and also comes with fast charging facility.
Lenovo k6 Power: Lenovo k6 Power is our second pick on this list. The smartphone is powered by an octa-core processor Qualcomm Snapdragon 430 processor at a clock speed of 1.4 Ghz. The processor of the device is coupled with 3 Gigs of Ram. As for as the camera are concerned, K6 sports a 13 Megapixel camera with the LED flash as the primary camera and an 8 Megapixel camera on the front. Lenovo k6's fingerprint scanner is as good as the Redmi Note 4. It actually offers a little bit more of features than the Redmi Note 4. You can do a lot of stuff with the fingerprint sensor. The device has got a comfortable 5 Inch screen-sized display with a resolution of 1080×1920 pixels. The device runs on 4,000 Mah battery which is non removable. Do consider buying the Lenovo K6 Power as it has a greet fingerprint sensor.
Panasonic Eluga Ray X: Eluga Ray X is the newly launched smartphone by Panasonic under the price segment of Rs 10,000 in India. The usage of the fingerprint sensor is quite easy and comfortable on Eluga Ray X. The sensor is neatly placed under the home button on the front of the smartphone. Unlike other smartphones, Panasonic integrated the sensor on the front which comes very handy in unlocking the device. Talking about the specs, the device features a 5.5 Inch screen-sized display, and is powered by MediaTek MT6737 1.4 GHz quad core processor which is paired with 3GB of Ram. The device comes with 32 GB on onboard storage and supports memory expansion up to 64GB. The power house of the Panasonic Eluga Ray X is a 4,000 Mah battery.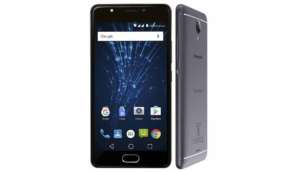 Coolpad Note 5 Lite: With a price tag of Rs 8,299, Coolpad Note 5 plus is our fourth pick on this list. Just like the Redmi Note 4, the fingerprint sensor on this device is placed on the back of it. Just like the other smartphones, the unlocking is pretty fast on this device. Within 0.5 seconds, the device detects your finger and unlocks. Coolpad Note 5 Plus features a 5 Inch screen-sized display and has a resolution of 1280 x 720 pixels. It is powered by 1GHz MT6735CP Mediatek quad core and coupled with 3GB of Ram and 16 GB of internal storage. Well, it does provide support for external MicroSD card up to 64GB. The device runs on a 2,500 Mah Lithium-ion battery.
Xiaomi Redmi Note 3: Here's another smartphone from Xiaomi. The Redmi Note 3 is a predecessor of the Redmi Note 4. The device was launched in two different storage variants, i.e., 2GB Ram + 16 GB storage and 3 GB Ram +32 GB storage. The first variant is perfectly priced at Rs 9,999.
It comes with a 5.5 Inch 1080pixel display and is powered by Qualcomm Snapdragon 650 Soc, the Hexa-core processor is clocked at a speed of 1.8 GHz and is paired with 2 or 3 GB of Ram. It also comes with memory expansion feature (Hybrid Slot). Coming to the camera aspect, the device sports a 16 Megapixel camera on the back with LED flashlight and a 5 Megapixel camera on the front for taking selfies. The device's powerhouse is a 4,050 Mah battery.
Our Take
A smartphone's Fingerprint scanner with poor detection technology makes no sense. A fingerprint sensor is supposed to provide the superior security to the device by not allowing anyone to the use except its owner. All the device which I have shared in this article provides top security with their fingerprint sensors. You can easily rely on them without any hesitations and issues. So, these were the best fingerprint scanner devices which you can buy right now under the price tag of Rs 10,000. Do let us know which one of them is your favorite in the comment section.