The new Apple iPhone 8 is one of this year's most hotly anticipated devices this year and rumours are already circulating like hot cakes. There has been a lot of news and rumours that apparently portray the new smartphone in all its glory but most of it has been chaff as many self-proclaimed experts have declared all manners of unrelated and unconfirmable information. This latest leak comes from noted leakster @OnLeaks and showed off thin and tiny bezels to complement the sleek design.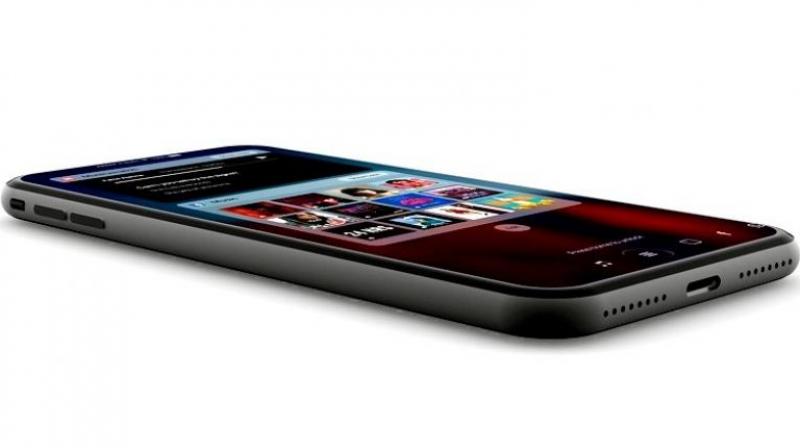 @OnLeaks has also showcased a list of features which have shown off an impressive set of new design philosophies. The tipster suggested that this render is the final and official leak of the design of the new iPhone 8. The vertical dual cameras on the rear may indicate a greater extent of depth perception ad may indicate that the tech giant may already be upping the ante in a VR-dominated world with the eye of the eagle being the smartphone market.
What's There
The new iPhone 8 seems to have extremely tiny bezels on the AMOLED-displayed iPhone 8, together with a speaker grille at the bottom as well as curved corners. Beside the vertical dual-camera setup which visible on the back, there is a very handy LED flash. The renders seem to portray an iPhone that apparently measures 143.5 x 70.9 x 7.7mm, along with a display size of 5.8 inches. This and the fact that the bezels are tiny means that Apple has found out a new method to utilize the available real estate on the new smartphone as well.
What's Not
The renders seem to indicate that the Touch ID sensor is not placed on the back. A new report has also mentioned that Apple will integrate the fingerprint sensor either below the display or incorporate it right on to the Apple logo on the back.
So, this is it… I guess… #iPhone8 renders + 360° video + size (based upon factory CAD) on behalf of @GearIndia https://t.co/cbggACbCh0 pic.twitter.com/FgNsoQfqRb

— OnLeaks (@OnLeaks) 9 May 2017
There have been a lot of speculation regarding the position and the technology of the Touch ID. Some analysts have even gone on to state that Apple may as well ditch the technology completely. Given the investment that Apple has done on this issue, it's highly unlikely that the iPhone 8 won't come with a Touch ID at all. meanwhile, there are reports that the WWDC event in June may see the debut of the Apple iPhone 8. That may turn out to be untrue after all.