Chinese smartphone developers are having a field day at the moment when it comes to the new smartphone launches. Huawei certainly belongs to that group as we have noticed news and updates regarding new smartphone launches coming in more frequently these days. And the latest one from Huawei, the Honor 9, is tipped to be launched on June 27.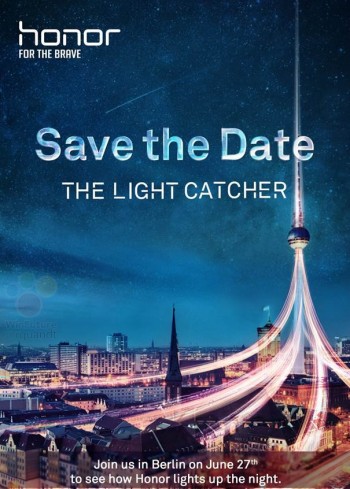 It has been not long that the Chinese smartphone developers came out with the update that the much-awaited Huawei Honor 9 is going to hit the market on June 27. Well, that's for the European crowd. The smartphone might well be made available for the users in China before the European launch. And reports are there it could be on June 21 or June 22 that the upcoming flagship device from Huawei in the Honor line-up will be out for sale in China. But the European users need to the wait a bit longer to get hands to the device. And the update was provided by the developers through a poster which has revealed that the launch event will take place in Berlin.
The Huawei Honor 9 happens to be the successor of the much popular Huawei Honor 8 which received good reviews after coming on to the market. And it is expected that things are going to take the similar path when upcoming flagship smartphone comes out on the market.
Regarding the features of the smartphone, quite a few numbers of rumors and speculations are making rounds. Most of those are of the opinion that the smartphone from Huawei is going to hit the market with the Kirin 960 chipset along with 4/6 GB RAM and 32/64 GB native storage. The speculated 5.2-inch display is expected to support a display resolution of 1080 pixels which is impressive.
Previous news has suggested that the smartphone is going to hit the market without the 3.5 mm headphone jack. Also, the rear camera setup is expected to be a combination of a 20-megapixel and 12-megapixel camera although the configuration of the front camera is not yet known. In fact, all these are rumors and to know all the confirmed specs and features of Huawei Honor 9 you need to wait till the event in the month of June.