Samsung may have had a bad year in 2016, but they are definitely on their way back up. Their first quarter earnings call for 2017 went on to show that the company has seen an explosive recovery from the financial havoc wreaked last year by the Galaxy Note 7. It also revealed that they were ready to put the mishaps behind and introduce the next generation Note devices sometime later in 2017. However, the South Korean giant had also confirmed that they will launch some midrange devices during the financial year, and the new leaks seem to hint at one of those.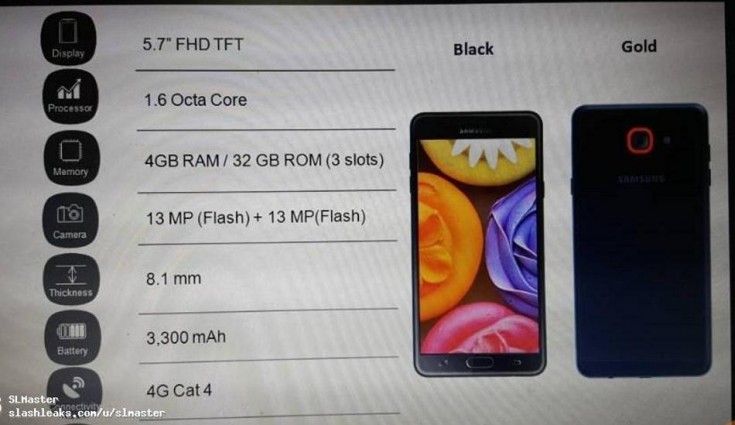 In fact, Samsung has steadily kept their presence alive in the mid level smartphone market alongside their high end flagship devices like the Galaxy S and Note devices, but not all these end up making their way to  India. The Galaxy J line is among these series that boast of some really good features while sporting modest looks, and it looks like the details of the new Samsung Galaxy J7 Max, which might be on its way to India soon, have surfaced online.
The Samsung Galaxy J7 Max's specifications recently became public when an image containing its product information was leaked. According to the figures in the image, it looks like the smartphone will pack in some modest yet impressive features, despite being quite unremarkable in terms of appearance. To start off with the basics, the Galaxy J7 Max will sport a 5.7-inch Full HD TFT display and run on a 1.6GHz Octa Core processor. It will come with a sizable 4GB RAM along with at least 32GB of internal storage.
Moving on to the optics department, the Samsung Galaxy J7 Max smartphone will come with a 13MP primary camera at the back along with a 13MP unit up front for selfies; both cameras will be equipped with LED flash. The device will be backed by a 3,300mAh battery and run Android Nougat out of the box. Some of Samsung's nifty features, like the Samsung Pay Mini, are also supported.
The smartphone, which is slated to come in Gold and Black color options, will supposedly be launched sometime next month. There is no word on availability yet, so we are not sure which regions will be able to get their hands on this one. However, reports suggest that Indian buyers looking for a slightly upgraded mid range device may be lucky in the coming months.