It has almost a year that we came across the promising Samsung Galaxy Note 7. But much to the misfortune of the developers the phablet started to explode due to some faults in the battery which forced them to discontinue the production of the device. almost a year on, Samsung is considering the launch of the phablet in a refurbished form. Well, that is nothing new. However, the news which has come out reveals that the fans of the smartphones and electronic gadgets from Samsung will not have to wait long before they can get the first looks of the Samsung Galaxy Note 7R (renamed).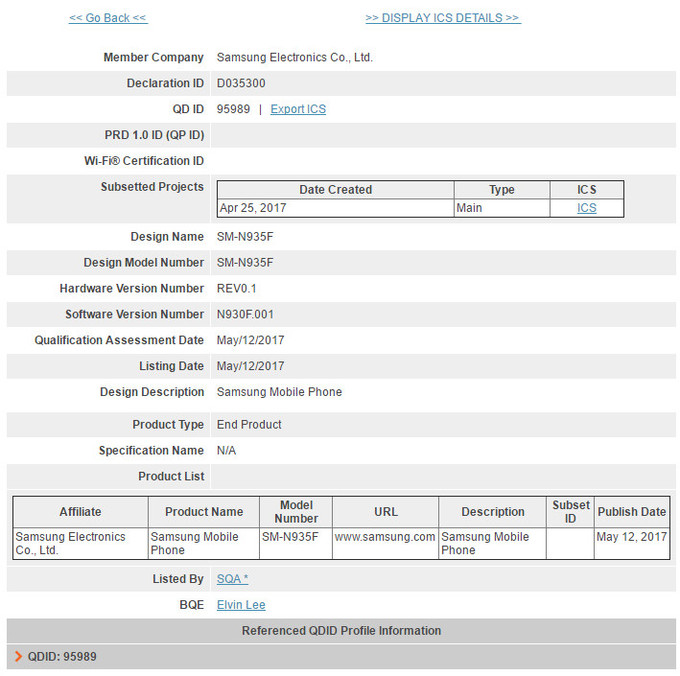 It was in the previous week that the Samsung Galaxy Note 7R received FCC certification which is regarded as one of the most important ones before one device gets launched. And now, the Bluetooth Certification of the phablet somewhat, reaffirms that the device is going to be out on the market very shortly.
As the trend goes, the Bluetooth SIG certification does not provide the consumers with much information regarding the specs and features of the smartphone. This time as well, there is no exception. However, the Bluetooth certification confirms the existence of the smartphone from Samsung and also that it will be launched soon.
Rumors have it that there is not going to be too much of a change as far as the features and specs of the Samsung Galaxy Note 7R are concerned. There will be few tweaks here and there and one will certainly be in the operating system on which the device will be running. The original version of the device which came out last year ran on an Android 6.0 Marshmallow operating system while this time it is expected that it is going to come out with the Android 7.0 Nougat OS right out of the box. The battery, which will certainly be the main concern of the developers, will be revamped as well. It is expected to be backed up by 3,500 mAh battery in place of the 3,200 mAh one.
However, not all the users are going to get access to the phablet. It is reported that Samsung Galaxy Note 7R is going to be made available to the users in South Korea first along with the people residing in China. Whether it will be made available to the users in the other parts of the world is yet to be confirmed and for that, we will have to wait for a bit longer.