Very few has forgotten the exploding Samsung Galaxy Note 7, and here it is, back again with refurbished features and hopefully a non-exploding battery. The official re-launch of the device is imminent, and the latest news which has come out provides clear hints at that.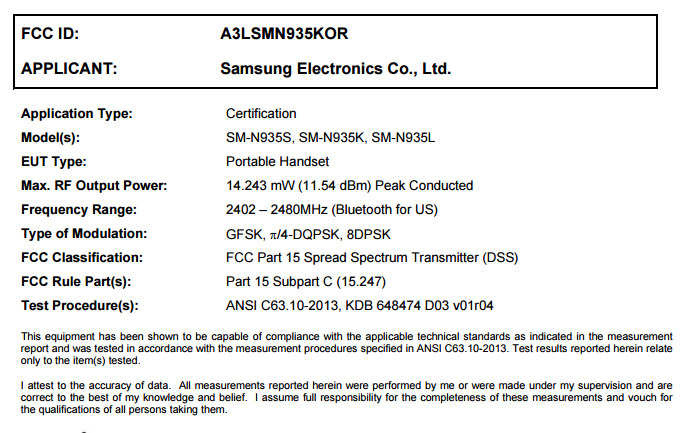 The latest updates which have come out have revealed that the Samsung Galaxy Note 7 will be launched as the Samsung Galaxy Note 7R and it has received FCC certification of late. Federal Communication Commission (FCC) is one of the certifying boards in the United States, and all the smartphones need to receive the certification before getting launched on the market. Hence, once it has got the certification, Samsung Galaxy Note 7R launch is expected to take place very shortly. It was a few days back that the refurbished Samsung Galaxy Note 7 received certification from Wi-Fi Alliance. Three models – SM-N935S, SM-N935K and SM-N935L have passed the tests and are waiting in the pipeline to be launched in the coming days.
It has been rumored that four variants of the smartphone are going to be available on the market based on the color of the device. And these are coral blue, silver, white and black. The features of the device are going to remain as it was when the smartphone was originally launched. Only the battery has been taken care, and the refurbished model will come with a 3,200 mAh battery instead of 3,500 mAh. And it will come with the latest operating system – the Android 7.0 Nougat out of the box. The original smartphone ran on Android Marshmallow OS.
Regarding the price tag, it is believed that the refurbished smartphone from Samsung will cost less. In fact, reports have suggested that it will cost $615 while the original smartphone had a price tag of $869. According to the rumors, the smartphone will be available on the market from the month of June. However, the developers have not provided any hint regarding that.