Chinese smartphone developers are having a good time as far as the field of technology, particularly, the smartphone is concerned. And one of the Chinese brands among all which have been struggling a bit seems to have made up good grounds and is back in the headlines for the upcoming devices from it. It is the LeEco Le X920 we are talking about and it is back in the headlines once again.
Lately, the LeEco Le X920 has been once again spotted online. This time it is on GFXBench. And it has reaffirmed a number of specs which have been previously revealed, courtesy to its previous appearances. The GFXBench listing of the LeEco Le X920 which has been named as the LeEco Le Max 2 Pro comes with a 5.5-inch display which will support a resolution of 2560 x 1440 pixels.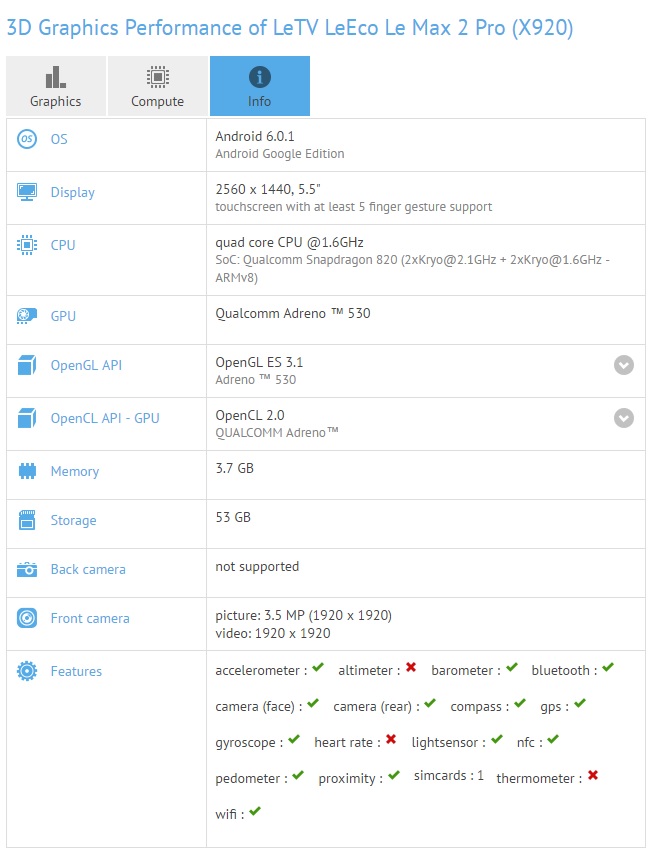 This upcoming smartphone from LeEco is expected to hit the market with the Qualcomm Snapdragon 820 chipset coupled with a 4 GB RAM. The internal storage of the device is set at 64 GB as the listing has revealed. Previously the Geekbench listing of the smartphone has revealed similar specs of the smartphone and the reconfirmation somewhat makes it final that the smartphone will come out with these features under the hood. The smartphone is spotted to be running on Android 6.0.1 Marshmallow operating system.
There are still a lot of things which need to be clarified as far as the camera of the device is concerned. There is absolutely nothing on how the rear camera is going to be set up as the GFXBench has got 'not supported' written beside that section. The selfie camera is expected to have a 4-megapixel lens as the latest listing has revealed. However, the previous listing has revealed that the smartphone will come with an 8-megapixel lens. So there are quite a few things which still remain to be clarified.
There is no update regarding the release date of the LeEco Le X920. So we need to keep on waiting for the official statement to come which might not be too far away.