OnePLus is one of the most popular Chinese smartphone developers which have been in the news for a long time now, thanks to the updates which are coming regarding their upcoming flagship device. The teasers of the smartphones are coming in at regular intervals and the latest one which has come has revealed that the smartphone is going to be launched very soon.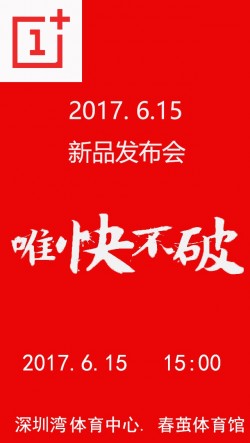 There have been already lots of words going on around in the market regarding the release date of OnePlus 5. The newest one that has floated up reveals the fact that the smartphone is going to hit the shelves on June 15. A leaked image has come out which has the date June 15 imprinted on it and a lot of things written in Chinese. Although there is no mention of the fact that OnePlus 5 will be launched on that day. But it can be predicted that there is going to be an event. And talking about the event, there is no such news that there is going to be any other device than the OnePlus 5 that is in the pipeline to be launched. Hence, the conclusion can be derived that it will be OnePlus 5 which will be launched on June 5.
This leaked news and updates regarding the upcoming flagship device from OnePlus are nothing new. For quite a long time these updates have been flowing in. Also, a few days came in a report which suggested that the smartphone is going to be launched on June 15 and the latest one boosts that particular possibility. Not just that, there were also reports suggesting the presence of a fingerprint scanner in the device. A number of color variants of the smartphone were also teased as well after there were reports suggesting the camera features of the device.
However, since there has not been any official seal on all these, we need to wait for the event to take place on June 15 which will surely give an idea of how things are going to shape up. Hence, we need to wait for the smartphone to be launched.