Samsung is currently in the headlines mostly because of the new phablet Galaxy Note 8. However, there is also no lack of news regarding the predecessor of the Samsung Galaxy Note 8, that is the Samsung Galaxy Note 7 which is scheduled to be launchedNotethe Samsung Galaxy Note 7 FE. Now ahead of its expected launch the device has been spotted online which makes it clear that it is not going to be too long before the phablet gets launched.
It is on GFXBench that the phablet has been spotted online which has somewhat confirmed few specs and features of the phablet. It has been revealed in the listing that Samsung Galaxy Note 7 FE is going to hit the market with the 2.6 GHz octa-core Exynos 8890 processor coupled with 4 GB RAM and 64 GB internal storage. The processor also comes associated with the Mali-T880 MP12 GPU which will further enhance the performance of the handset. The device will run on an Android 7.0 Nougat operating system.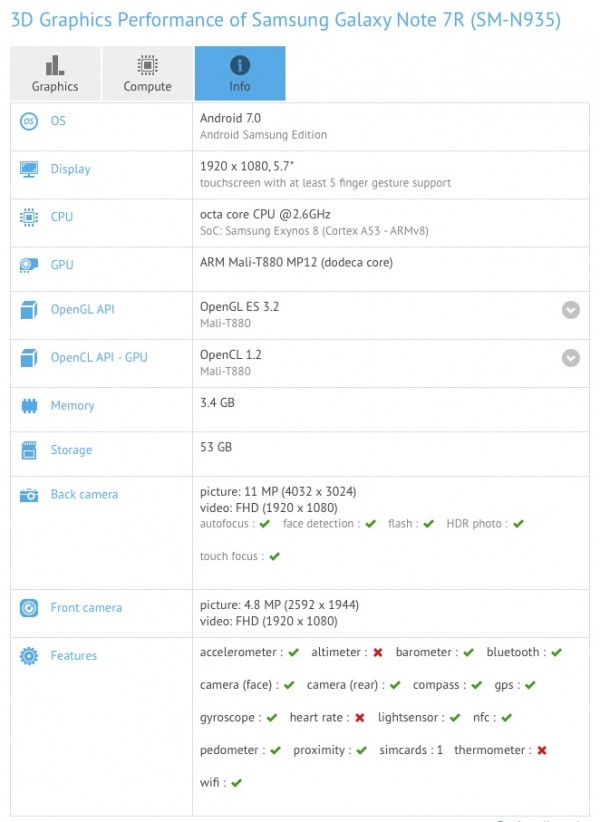 Samsung Galaxy Note 7 FE with the model number SM-N935 is found to be equipped with a 12-megapixel rear camera and 5-megapixel front camera. Certainly, there are going to be additional photography enhancing features which will make things even better, which are actually subject to further revelation.
Other than this, the GFXBench listing has brought to the fore the fact that the 5.7-inch screen is going to support a display resolution of 1920 x 1080 pixels. A number of additional sensors are going to be there in the device along with connectivity features like the NFC, Bluetooth, and Wi-Fi.
It has been not long that reports came in regarding the release date of Samsung Galaxy Note 7 FE. It stated that the phablet will perhaps be launched on July 7. And this GFXBench listing further makes sure that there not much left before the launch of the device.