Okay, it certainly looks like Samsung is willing t forget the past year and the debacle of the Galaxy Note 7. The Note 7, in case you have been living under a rock, started exploding and catching fire and was banned from many airlines over the world. Now, however, it seems that Samsung's new Note 8 is the answer to all of Samsung's woes. All except one. For, if sources are correct, we might see the launch of the new Samsung Galaxy Note 8 without one very important feature: the on-screen fingerprint scanner.
Surely, without the scanner, using the device one handed would be rendered more difficult than if Samsung had decided to let it stay.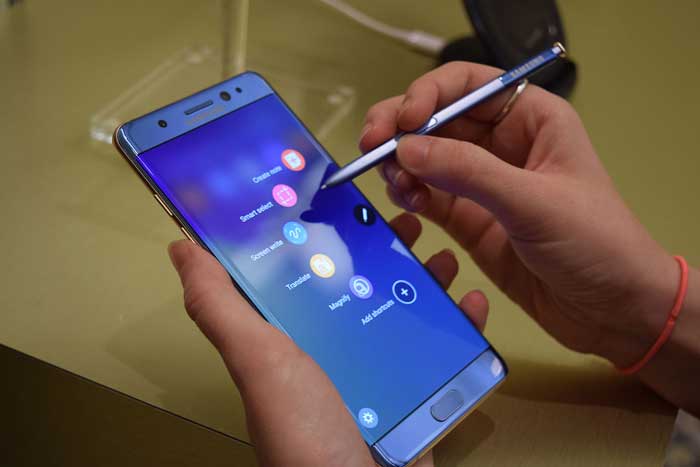 The Samsung Note 8 is expected to launch sometime in August. This report by SamMobile states that the new device, a premium sector entry, is expected to be a very heavily loaded device. However, with the on-screen fingerprint scanner not being featured, it is expected that the Samsung device will not be that delectable.
The report quoted a Samsung Electronics official saying,"We made every effort to install a display-integrated fingerprint sensor on Galaxy Note 8, but we decided not to install it on this strategic phone due to various technical limitations such as security."
An on-screen fingerprint scanner is often very important as far as usability and functionality are concerned, apart from the usual security features as well. Tech enthusiasts and fans of Samsung devices will know that the Samsung Galaxy S8 and the S8+ both were supposed to feature the on-screen fingerprint scanner but both ultimately arrived without it.
Now, it seems, the Galaxy Note 8 too will have the same deficiency. From what we know of the Samsung Note 8, we now know that the device will carry a 6.3-inch Infinity Display, a dual rear camera, which includes a 12MP wide-angle camera and a 13MP telephoto lens, as well as an autofocus front snapper and an iris scanner. Also on board will be Bixby.