Samsung Galaxy S8 has already managed to mesmerize fans and the tech enthusiasts across the world despite the fact that there few limitations in it. And it seems that Samsung is all set to launch the 'Active' version of the smartphone within a few days. The listing of the smartphone on benchmarking website does clear hint at that.
It is Geekbench where Samsung Galaxy S8 Active has been spotted and the points it has managed to score is quite incredible. In the single-core testing, the new smartphone from Samsung has scored 1824 points while in the multi-core test it has got 6394 points. Comparing with the other devices, it is lower than the actual Samsung Galaxy S8 and the Xiaomi Mi 6. But then the scores are at par with what the likes of Samsung Galaxy S8+ and HTC U11 have got. However, it has fared better than the Sony Xperia XZ Premium.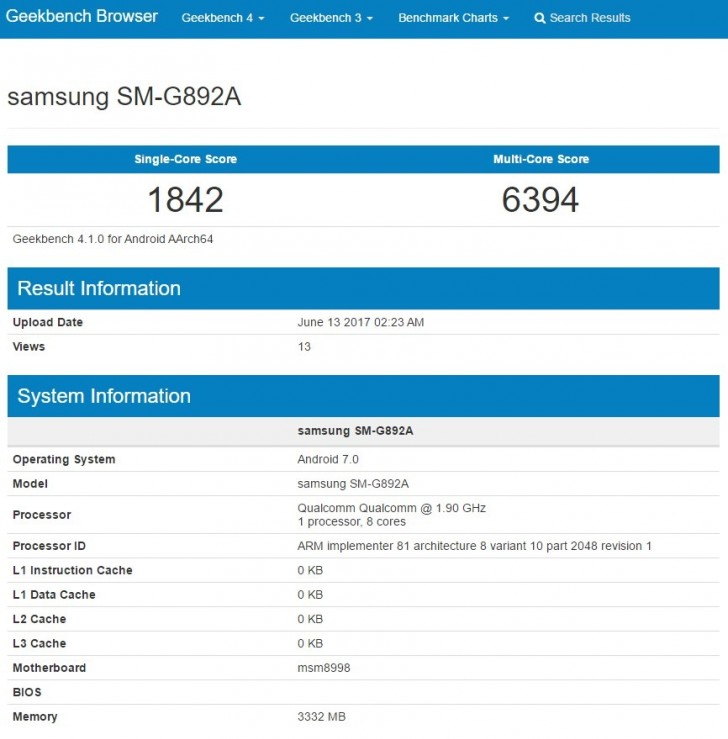 Now besides the scores, the Geekbench listing of a smartphone does reveal quite a lot of information regarding how the device might shape up. And there is no exception this time around as well. The most important thing which has been revealed that there isn't going to be too much of a variation if we notice the specs of the Samsung Galaxy S8 and the Samsung Galaxy S8 Active. Thus most of the highlighting features of the S8 will be there in the 'Active' edition of the device.
Under the hood, the Samsung Galaxy S8 Active is going to sport the Qualcomm Snapdragon 835 processor which will be paired with 4 GB RAM. The smartphone will run on an Android 7.0 Nougat operating system. The battery of the handset is expected to be of 4,000 mAh while in the S8 it is 3,500. Hence, a power-packed long-lasting performance is on the cards. As it has been stated above, other features of the smartphone including the 5.8-inch 'Infinity Display' is going to be retained in Samsung Galaxy S8 Active.
Regarding the release date of the smartphone, nothing at all has been revealed. But the previous trends state that Samsung has gone for the month of June to announce the 'Active' editions of the device. SO we might expect that it is going to be in this month that we will be able to come across the first look of the Samsung Galaxy S8 Active. Regarding the price, the report states that this newly spotted handset will cost $100 more than the price of the S8. An announcement in this regard is also a subject of further revelation.