The new smartphone from Sharp appears yet again in the online media and this time the courtesy goes to the GFXBench listing. The Sharp FS8016 is not a completely new name from the Japanese tech company as it has grabbed the attention of the tech enthusiasts for a quite some time now.
The GFXBench listing of the smartphone from Sharp with model number FS8016 has revealed a lot of specs and features. It comes with a 5.5-inch screen which is supportive of a display resolution of 2040 x 1080 pixels with an aspect ratio of 1.9:1. The touch screen comes with 5 finger gesture support at least.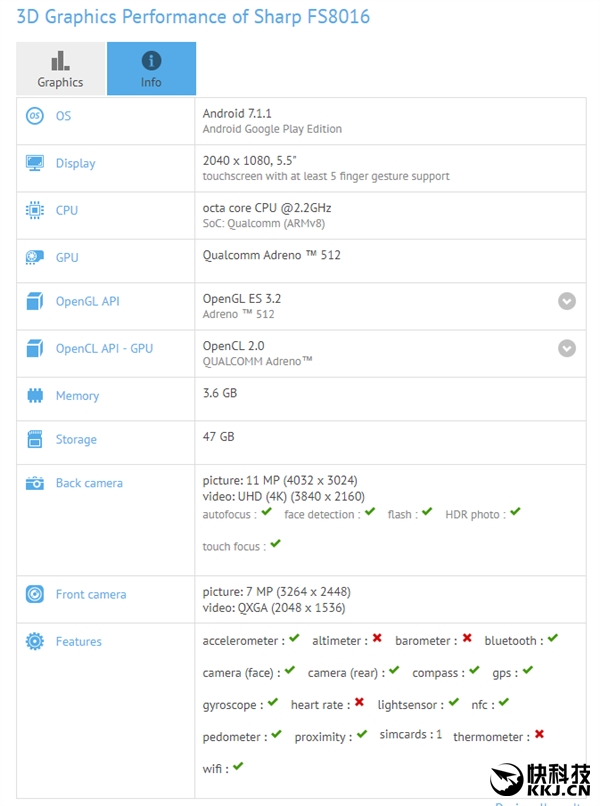 Under the hood, the Sharp FS8016 comes with 2.2 GHz Qualcomm Snapdragon 660 chipset coupled with eight cores. The processor is coupled with 4 GB RAM and 64 GB internal storage. The handset will also be equipped with the Adreno 512 GPU and it will run on an Android 7.1.1 Nougat operating system right out of the box.
Coming to the optics section of the upcoming device manufactured by Sharp, it can be stated that it is going to be pretty impressive. The rear camera will feature a 12-megapixel lens while the front camera will be sporting an 8-megapixel lens. A number of additional features might be there as far as the camera is concerned and it will be confirmed once further updates regarding the smartphone come in.
It is not the first time that Sharp FS8016 has been spotted online. Previously the Geekbench listing of the smartphone has revealed quite a bit of information regarding the smartphone's configurations as well. And this latest listing of the device on GFXBench further confirms the formerly revealed specs and features. This also hints that the device is going to hit the market soon although there is no official word on that as well. So we need to wait for few days to get an update on that.