Most electronics companies who have been in the business since the beginnings of the smartphone era have seen popular demands undergo some major changes and catered to them accordingly. If you remember the past, then once upon a time, small smartphones that fit into the palm of your hand were all the rage, and Samsung did their bit with the Galaxy Stellar smartphone in 2012. Now new leaked renders have surfaced which suggest that the South Korean company is working on Samsung Galaxy Stellar 2 smartphone.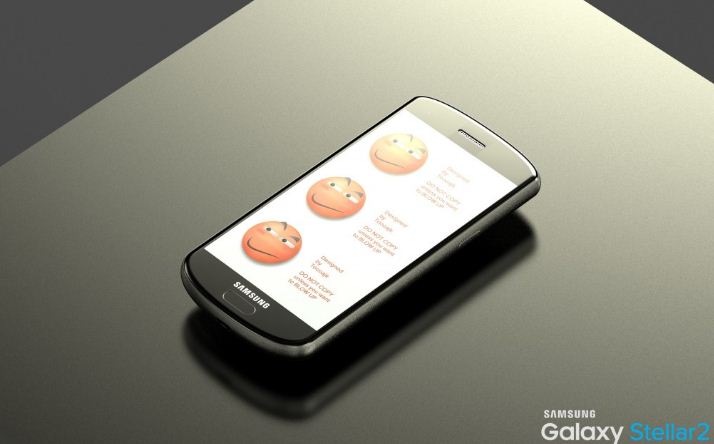 The supposed follow-up to the Galaxy Stellar smartphone has been spotted online in a slew of images, and it shows off the device from a number of angles. There is no real proof that this is the Samsung Galaxy Stellar 2 besides the name that appears in the pictures. But the pictures also come along with a couple of specs details for the smartphone.
Going by these, it looks like the Samsung Galaxy Stellar 2 will be aimed at the mid-ranger market with decent specs to go along with it. The smartphone seen in the pictures sports a 4.5-inches AMOLED display up front- half an inch larger than its 2012 predecessor. The device will be powered by a Qualcomm Snapdragon 626 SoC (Octa-core) under the hood, which will come coupled with 2.5GB of RAM and 32GB of native storage.
On the camera front, the leaks claim that the Samsung Galaxy Stellar 2 will come with a 5MP primary shooter at the back along with a 1.2MP unit at front. It looks like Samsung will be marketing the device based on its battery performance; for such a basic device, this one is rumored to sport a 3,500mAh battery with Quick Charge 2.0 support. The device's body also looks impressive, and it appears that will be made out of glass and metal. It is said to run Android 7.0 out of the box, and the physical home button that can be spotted beneath the display will also double as the fingerprint scanner. Check out the pictures from GSMArena's report here.
For all these details, there is every doubt in our minds about the credibility of this source. But if it is to be trusted, then the Samsung Galaxy Stellar 2 will come for around $100 in the US.