HMD Global is consciously attempting to bring as much as they can with their upcoming Nokia phones. But rumor mill seems to overbrim with the recent possible report of the much-awaited Nokia 9. With plausible news, it appears that Nokia 9 has paid its part to the benchmarking site, AnTuTu, yet again.
The latest Nokia 9 with a model number, TA-1052 has been spotted on AnTuTu, after the TA-1004 variant. Leaked on the Chinese microblogging site, Weibo, Nokia 9's listing for AnTuTu benchmarking site has been revealed online alongside some its key specs. With a screenshot, Weibo has posted what AnTuTu listed for the Nokia 9 variant with a model number TA-1052.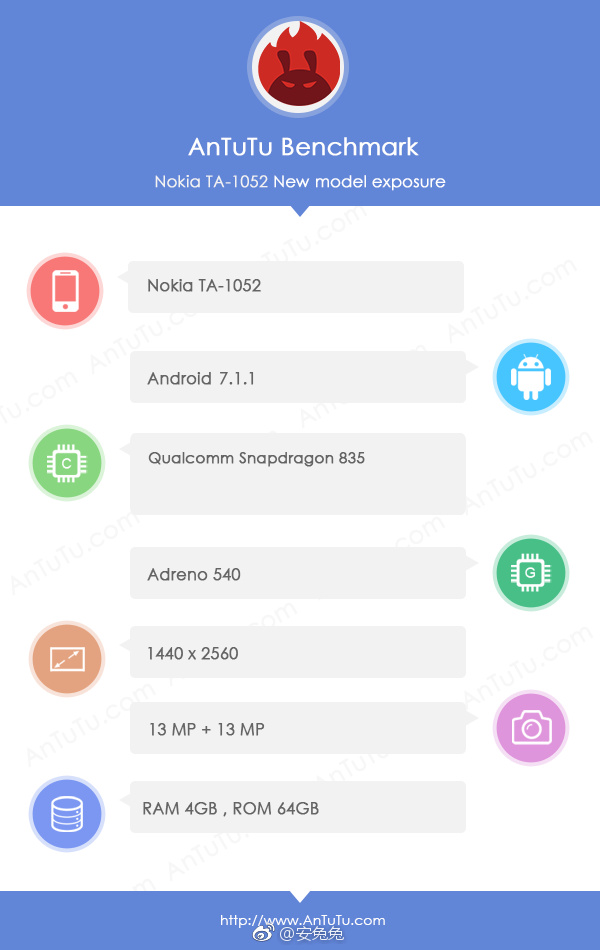 While some of the features remain alike to both the smartphones, there's a slight change in terms of optical technology implemented on Nokia 9 smartphone. Earlier, the device was spotted to come with a dual lens camera, but this time, revelations unfold that Nokia 9 is supposedly rolling out with a single lens camera, as spotted. With the camera department, it'll feature a 13 MP of the primary camera as well as the selfie shooter.
Display wise, Nokia 9 is seen to come with a screen size of a 5.5-inch display. Reportedly, the device will be running Android 7.1.1 Nougat alongside a native storage of 64 GB and 4 GB of RAM. The handset may not be sport a bezel-less screen but will come with a 2K super clear screen. Nokia 9 is going to be powered by Octa-Core Qualcomm Snapdragon 835 SoC clocked at 1.9 GHz.
The Finnish tech giant is possibly working hard for Nokia to bring back the past fame. And not just Nokia 9, Nokia 8  is also leaked to get launched in August with a 5.7-inch display screen and running the latest Android 7.1.1 Nougat. Right now tech gurus are awaiting more updates about the upcoming Nokia smartphones.