Sharp, which is a global electronics giant based in Japan, has unveiled a new smartphone. Called the Sharp Aquos S2, the display of the device is splendid and is brighter than most comparable devices. Available for now only in China, the device will be sold exclusively from JD.com. The Aquos S2 will start retailing in China from August 14. This is Sharp's newest device to surface after another model, with a model number of FS8016, was leaked recently.
Sharp Aquos S2 Specs and Features
The new Sharp Aquos S2's main sales pitch is the display, for which Sharp Corporation is justifiably famous. The device boasts of a 5.5-inch Full HD+ LCD display that will provide clearer pictures thanks to the screen resolution of 1080 x 2040 pixels. The display also boasts of 55 nits of brightness which makes for a crisper display. For extra protection, we have the 2.5D Corning Gorilla Glass over the screen.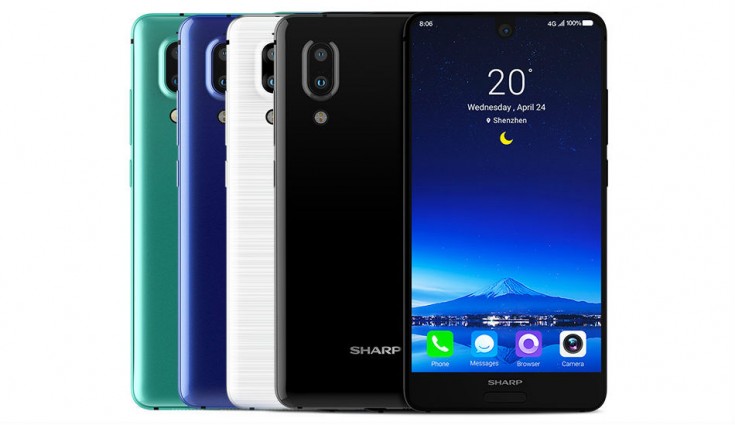 There are two variants of the Sharp Aquos S2. The base variant has, at its core, an octa-core Qualcomm Snapdragon 630 processor which has been clocked at 2.2GHz. Also on board is the great and very efficient Adreno 508 GPU. This variant will have a decent 4GB of RAM which will pair up 64GB of internal storage.
There is also another variant which is a bit more upmarket. This device has an octa-core Qualcomm Snapdragon 660 processor which will work in tandem with Adreno 512 GPU. This variant will come with a very neat 6GB of RAM besides 128GB of native storage. Both the variants will have expandable storage thanks to the microSD card slot to up to 128GB.
As far as the design philosophy of the new device by Sharp is concerned, it is nearly bezel-less and has a very good screen-to-body ratio. In fact, this ratio is an astonishing 84.95 percent thanks to the presence of the FFD, or Free Form Display, which will have small holes meant for precise features of the screen, especially for the front camera and receiver.
Now, we come to the Sharp Aquos S2's price. The base variant will start sales in China for 2,499 Yuan or approximately Rs 24000. The more premium variant, the one with the Snapdragon 660 SoC, will come for 3499 Yuan or approximately Rs 34,000.