For sports and entertainment enthusiasts, there is a very delicate balance when choosing headsets. Now, that choice has been made simpler, thanks to SoundBot. This audio giant has introduced new wireless stereo Bluetooth earphones in India. The model number is SB565 and the features and specs make it ideal for outdoor use and during physical activity like walking and running.
SoundBot SB565 Wireless Bluetooth Earphones Features
The new SoundBot device has many good specs and features. They come with tilted ear tips, which is designed keeping ergonomics in mind. Also on board is a water-resistant gel cushion that keeps the factors of stability and mobility in mind and provides HD acoustic sound. As the name suggests, the earphones are equipped with Bluetooth 4.0, entirely compatible with various platforms like Mac and Windows. You will not even need additional drivers to use the device.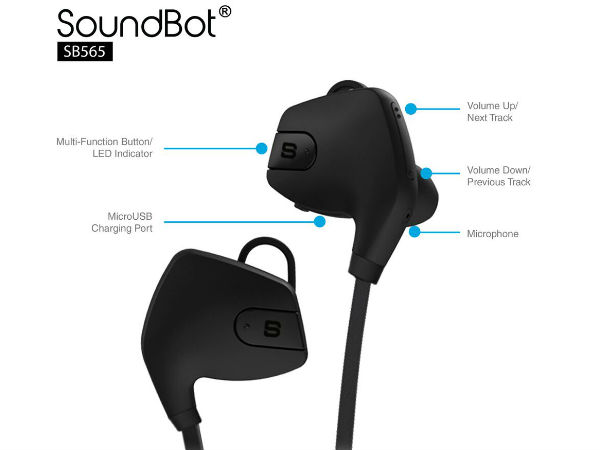 The new SoundBot SB565 Wireless Stereo Bluetooth Earphones boast of extremely high-performance speakers which are capable of delivering a richer and crisper sound. You will also be able to make calls using this device. A new feature 'Intuitive Navigation' is also there which will allow remote control of such features like music, as well as hands-free calls, playback music, besides the built-in Mic and the volume adjustments.
As far as the design philosophy is concerned, the new SoundBot earphone boast of two major aspects: sleekness and style. The specs quoted are also impressive. The Bluetooth earphones are very lightweight and have been said to offer 6.6 days' standby time, besides 6.5 hours of talk time. It will work best if kept within 33 feet (10 meters) of the paired device. Overall, the new gadget seems to be targeted at the younger buyer base and if the specs are anything to go by, it will surely be appreciated.
Stay tuned for more updates on the SoundBot SB565 Wireless Stereo Bluetooth Earphones. SoundBot is based in California and specializes in making audio accessories.