A new version, a more premium one, of the fan favorite Oppo R11 has hit the market. Called the Oppo R11 King of Glory edition, this new variant is a more premium and a more customized take on the older device and has a distinct bling value. The company and this specific model is no stranger to modern designs, however; ot had launched the Oppo R11 FC Barcelona edition months ago.
The new King of Glory edition has been designed, ostensibly, to pay homage to the massively popular multiplayer online game. This new edition is in many respects similar to a higher category device as well. It is also set to reportedly launch in China on September 29, with a heavily modified exterior design. The interior specifications of the device will not see too much of a change, however.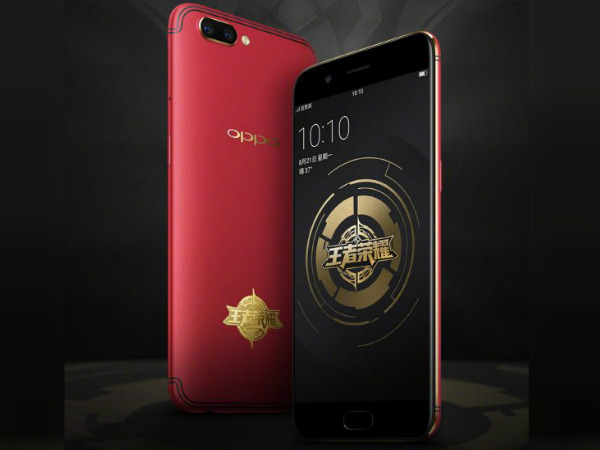 The design changes are considerable. The Oppo R11 King of Glory edition ships with a basic red paint job on the rear while the antenna bands have been highlighted in black. The camera ring has good-looking gold accents on the outside with the Oppo logo also seemingly embossed in gold. Some User Interface or UI tweaks are also likely on the device while a new theme, one based on the online game, is to be expected.
As far as the Oppo R11 King of Glory specs and features are concerned, they are pretty decent. It has onboard a 5.5-inch full HD AMOLED 1080p display alongside 401ppi of pixel density. Working under the hood is a Snapdragon 660 SoC which will work in tandem with 4GB of RAM. On offer is 64GB of internal/native storage expandable via microSD card.
The new Oppo R11 King of Glory edition has excellent cameras. The dual-camera setup on the back has a 16-megapixel sensor armed with f/1.7 aperture besides a 20-megapixel telephoto lens armed with f/2.6 aperture. A 20-megapixel front camera completes the package. A pretty large 3000mAh battery powers the device and it runs on Android 7.1.1 Nougat overlaid with ColorOS 3.1.