If the reports are what to be believed, the Supergiant Lenovo has recently launched its latest MIIX 520 2-in-1 Notebook laptop in the Chinese markets. Talking about the launch event, the notebook laptop was unveiled at the Innovation and Technology conference held by Lenovo. Touted as the Lenovo IdeaPad Miix 520, it was initially announced at the IFA Berlin in the month of September. However, this is the initial tie for the device to be available in its home country in China. In case, we have listed out the essentials of the device right below.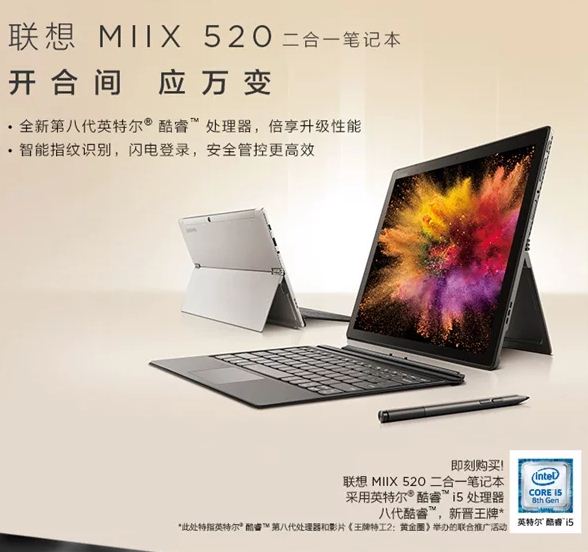 IdeaPad MIIX 520 Notebook Laptop Key Specs and Features
While to some user, the IdeaPad Miix 520 (the 2-in-1 tablet/PC) is a Microsoft Surface Pro Clone, this perhaps is something bigger than the Surface notebook, which includes the support for Intel's latest 8th-generation Core i7 CPUs. GizmoChina reports that the new chips. The company claims that IdeaPad MIIX 520 Notebook Laptop with its new chip will promise to raise its performance up to  40 percent (as reported here). Underneath, this new notebook laptop also features 16GB of DDR4 RAM that is extended up to 1TB PCIe SSD.
Display wise, the device features 12.2-inch FHD IPS touchscreen screen with a resolution of 1920 x 1200 pixels. It is fueled by a 39Wh battery that can last up to 7.5 hours approximately. Another feature that has been added to this new device is a fingerprint reader that enables one-touch Windows 10 login and an Active Pen 2 having 4,096 levels of pressure sensitivity for both drawing as well as inking onscreen. The original Miix 520 features a WorldView camera that can capture 3D images. In case, one can view our report on the very particular device right here.
IdeaPad MIIX 520 Notebook Laptop Price and Availability
As per pricing, the Lenovo IdeaPad MIIX 520 Notebook Laptop is already on sale on Jingdong with a price tag of 5,999 Yuan ($904). This is approximately $1,000 lower than the device announced in the European markets.