For gaming enthusiasts, here's a good news! California based brand specialized in personal gadget producing, SoundBot,  has now launched its foremost  3-in-1 gaming combo. The new combo set comes with the inclusion of a keyboard, SportsBot SS301 Blue LED Gaming Over-Ear Headset Headphone, and a Mouse combo pack.
According to the report via GizBot, the company has said that the new combo pack is for all gaming enthusiasts accord all ages which can furthermore help them explore the gaming world, come rain or shine! Moreover, the California tech giant has stated that SportsBot SS301 Combo has especially been developed and designed for users to take them to a new level and enhance their gaming experience.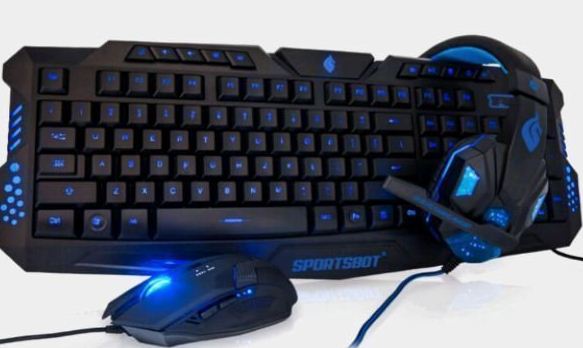 SoundBot India's director, Mr. Rajesh Bansal, stated, "We have been bringing devices to market in India and it's exhilarating to see such great acceptance and demand for our range of gaming products and now this new gaming combo is here to revolutionize the market. Our products are all priced at affordable ranges and we are excited to see the Sportsbot SS301 take gamer in a new zone of experiential quality."
In terms of key specifications, the new SportsBot SS301 Combo sports excellent features like multimedia keys on the keyboard alongside a lock, LED headset with a 40mm speaker drive claimed to deliver rich bass and deep quality for listening pleasure. Also, the combo set has the ability to offer an excellent overall output.
Featuring a top-class microphone with a volume controller, the headphone that it comes with is extendable. It also offers comfort to users due to its soft leather earpads which is the main reason why the headphone offers an extra level of listening comfort. The SportsBot SS301 Combo is designed for a long-term purpose. The design features of the products are durable and absolutely great for gamers irrespective of age.
Talking about the LED mouse, it sports an easy access DPI button with 4 levels of dip resolution in order to fit every need of users. The optical sensor also happens to be accurate and is perfect for all surfaces. The Blue LED backlight features breathing lighting effect option. Overall, the SportsBot SS301 is omnidirectional and sports a 3.5mm plug-in AUX. As per pricing, the combo set comes with a price tag of Rs. 2,990.