Xiaomi has just set up its third manufacturing facility in India, which is obviously one of its biggest markets. This manufacturing hub is located in Noida. There, the Chinese giant will also manufacture miscellaneous items like power banks. These power banks have been "Made in India." Given that these devices will serve domestic demand, the price tags have been kept low: starting at just Rs 799.
The two highlights of the two power banks announced are the Indian government's "Make in India" initiative while the second one is, obviously, the fact that Xiaomi has introduced a new technology in these devices, in association with HiPad technologies.
The two models which will be manufactured in the country, for now, will have capacities of 10,000 mAh and 20,000 mAh which will be enough to power most existing devices. They will be called, respectively, the 10000mAh and the 20000mAh Mi Power Bank 2i, the regular version of which was first announced in June. The manufacturing unit is pretty large and is capable of manufacturing an estimated seven power banks every minute.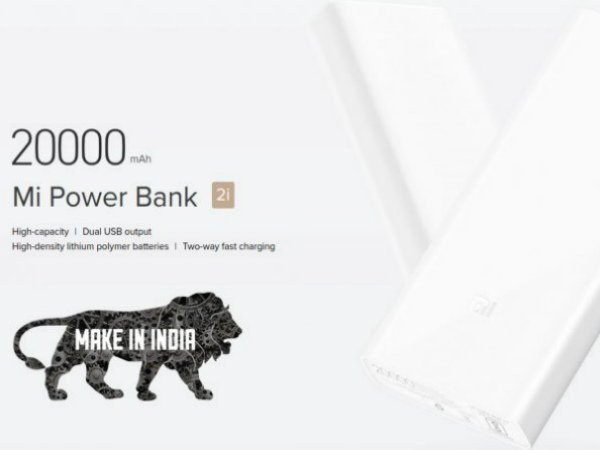 While the most basic features are identical as far as the Mi Power Bank 2i is concerned, there are certain differences between the models that we saw in June and the recently announced "Made in India" ones. Xiaomi has claimed that the new models, namely the 10000mAh and 20000mAh Mi Power Bank 2i, proudly boast of a 93% conversion rate. They will also have changes in design. While the smaller variant will have a metal unibody, the bigger version will have an ABS plastic body designed for better grip. Also onboard is a singular low-power mode which will be activated if you press the power button twice consecutively. This mode will help you charge the Mi Bluetooth headset as well as the Mi Band.
As far as the prices are concerned, the 10000mAh Mi Power Bank 2i comes for Rs. 799 while the bigger 20000mAh Mi Power Bank 2i costs Rs. 1,499. The online sales will start from November 23 at 12 PM on such sites like Mi.com and the Mi Home Stores. Offline availability starts in December.