Asus has finally introduced its latest range of gaming laptops in India. This is not the first time that the company has introduced such devices in the domestic market. It had earlier introduced the Asus ROG-G701 gaming laptops as well. The latest range includes the following models: the Republic of Gamers (ROG) FX503, the ROG Strix Hero Edition, besides the ROG Strix SCAR Edition as well as the ROG Strix GL503.
Prices start at Rs 69,990 for this range.
Given that such MMORPGs like Dota2 and Counter-Strike have gained so much popularity, it is not surprising that the Taiwanese major has decided to launch the new laptops.
Asus Gaming ROG Strix SCAR Edition and Hero Edition: Details
These gaming laptops are rather exciting. These devices are powered by the Intel®CoreTM i7 processors which work in tandem with the NVIDIA® GeForce® GTX 1070 Series graphics paired with a super fast 7ms and 144Hz display. The keyboard layout is desktop-style, while the N-key rollover and the fast-actuating keys are also helpful. The new Asus ROG Strix SCAR Edition has a display with a 144Hz refresh rate. It has an IPS display with a 7ms response time. Asus claims that the panel will ensure 60 percent-brighter visuals compared with the low-end IPS panels from other rivals. The Strix SCAR Edition will soon be made available with up to an astounding 120Hz display that will have a 5ms response time.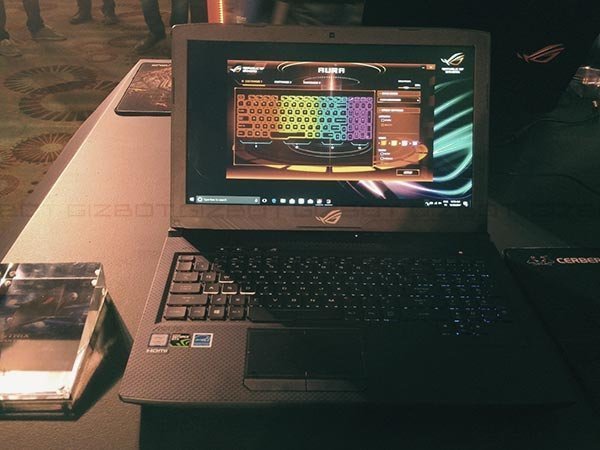 The Hero Edition is also pretty powerful with up to Intel CoreTM i7 processors, as well as the NVIDIA® GeForce® GTX 10 Series graphics. The OS is Windows 10.
ROG Strix GL503 and FX503
The Asus Strix GL503 has a desktop-inspired keyboard layout with four hotkeys and four key customizable RGB-backlit zones. To ensure better gameplay, there is an intelligent thermal design which then employs heat pipes and dual 12V fans; these work in tandem to ensure that CPU and GPU performances are automatically adjusted.
Finally, we have the mainstream gaming notebook Asus FX503. This is basically a very compact and powerful Windows 10 laptop with the Intel i7-7700HQ CPU and the NVIDIA GeForce GTX 1050graphics. At just 2.5 kg, it is also very light.