Ever since the Schaumburg based brand was acquired by Lenovo, the Lenovo-owned Motorola has spread its product range over different sections in the tech field. Earlier, a variety of special editions Moto Mods were announced by the brand in order to commemorate the launch of a movie Transformers: The Last Knight! The smartphone giant seems to follow a similar move, giving the honor to the upcoming Star Wars: The Last Jedi film, written and directed by Rian Johnson.
In honor of the forthcoming movie, the company is set to launch limited edition Star Wars Moto Mods in the Chinese markets. Touted to be the Style Shell Moto Mods, the upcoming Star Wars Limited Edition Moto Mods basically are a removable back cover for Motorola smartphones. To go into the depths of what the Mods are consisted of, it features an image of Darth Vader with his lightsaber.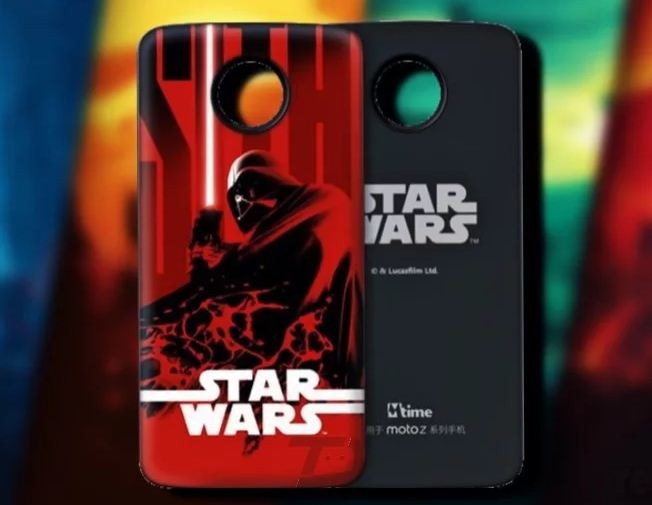 Star Wars: The Last Jedi, produced by Lucasfilm, is the second film in the Star Wars sequel trilogy. This space opera film has created havoc not only in the entertainment industry but also in the field of technology. For the fans of both Star Wars: The Last Jedi and OnePlus 5T, the Schezwan based smartphone giant brought the phone's newest Star Wars Limited Edition where the rear panel consists of a Star Wars logo embedded at the bottom.
Coming back to the Limited Edition Star Wars Moto Mods, it is envisioned that the company may launch its limited Star Wars Mods sometime over the next few weeks. As per the pricing, one may expect it to come with a price tag of 129 Yuan, i.e. approximately $20.
As per the sources' claims, the upcoming Limited Edition Star Wars Moto Mods is presumed to be exclusive in the Chinese markets, nothing unlike the special edition Transformers Moto Mods. But, in case Motorola plans an indication of broader availability of this Moto Mods, we would come up with further updates, till then stay tuned with us.