While it seemed that the Schezwan based company was saving the best for the last by bringing the Lava Red Color of OnePlus 5T, the best among the bests were yet to unveil. Last weekend, at the comic event in Bengaluru, OnePlus had an amazing announcement for both OnePlus and Star Wars fans. The unveiling event subjected to a brand new edition of the recently launched OnePlus 5T: the OnePlus 5T Star Wars Limited Edition.
As per the design is concerned, OnePlus revealed posters of the smartphone that closely hinted it'll feature a customized software themed on Star Wars. Alongside, the white finish on the rear panel with a black OnePlus logo speaks a similar language which Star Wars fans can connect with. There's the traditional fingerprint sensor embedded at the rear side, and to add the cherry on the cake, there also would be a Star Wars logo embedded at the bottom of the rear panel.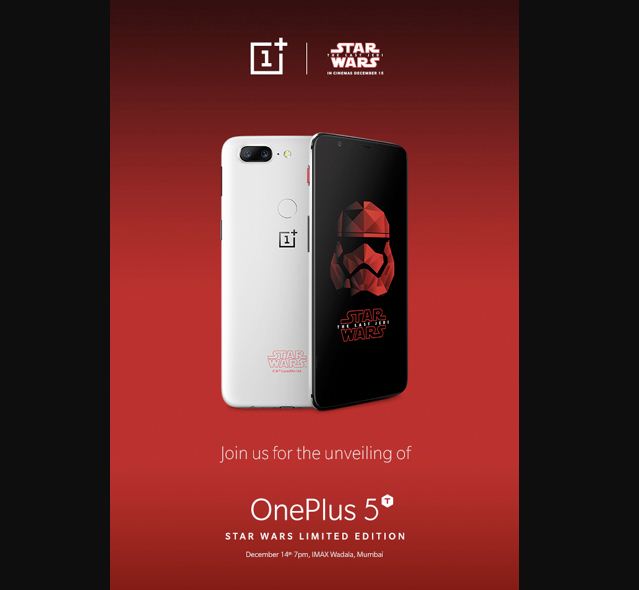 In a statement, the company declared, "Star Wars has enthralled generations with their masterful storytelling from a galaxy far, far away, with the best in technology and strong engagement with their fan community. Similarly, OnePlus too has a dedicated community that is deeply passionate about the best in technology, design, and attention to detail. With this befitting association, OnePlus community will be able to thoroughly enjoy the legacy of both the brands."
December 15, the day when Star Wars fans would see the release of Star Wars: The Last Jedi, unsurprisingly, the day will also bring the OnePlus 5T Star Wars Limited Edition in India across OnePlus channels Amazon India, oneplusstore.in besides the OnePlus experience zones in Noida and Bangalore. From the leaks, we get to know that apparently, this model will be an exclusive on just in the Indian markets.
To talk about the key specs this OnePlus 5T Star Wars Limited Edition, apart from its design will be similar to the traditional OnePlus 5T. Featuring a mammoth 6-inch FHD+ Optic AMOLED display with 18:9 aspect ratio, this device will also have the Qualcomm Snapdragon 835 SoC housed underneath its hood. This handset would perhaps take the online world by storm, for more updates stay tuned.