Tired of cleaning all the junk that accumulates daily in your phone? Tired of buying microSD cards in order to increase the memory capacity of your device? Looks like Samsung, the South Korean behemoth, has finally woken up to the concept that a 512GB flash memory chip is the need of the hour. In fact, it is now believed that this new chip is already in production.
It is now believed that the company is bent on producing Universal Flash Storage or UFS chips, which will replace all of the existing microSD cards and will provide a hallmark of storage for all sorts of different ad altering device with a unifying format: the UFS format. Samsung has, in an official press release, stated that it is indeed working on this new and bigger chipset.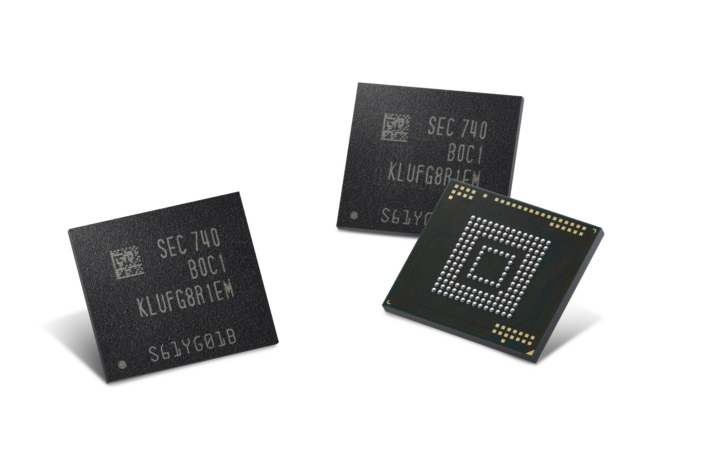 In Samsung's own words, the new 512GB version will have eight 64-layer 512Gb V-NAND chips as well as a controller chip, all of which will be stacked together. The new 512GB UFS is thus doubling the density of Samsung's previous 48-layer V-NAND-based 256GB eUFS; however, the space being occupied is the same as in the 256GB package. The much-increased storage capacity is also likely to provide better mobile experience. This new high-capacity eUFS will also allow any flagship smartphone to store nearly 130 4K Ultra HD (with a picture resolution of 3840×2160) video clips, each having a 10-minute duration. This is being touted as a nearly tenfold increase over a conventional 64GB eUFS, the latter capable of storing only around 13 such video clips.
Apple, incidentally, was planning to launch a 512GB variant of the iPhone 8.
The 512 GB UFS will have a much faster read memory speed of around 860 MB/s besides a write memory of nearly 255 MB/s. These chips are, therefore, faster than any comparable MicroSD card. It can also transfer a full HD video clip to an SSD drive with around eight times more speed than any conventional microSD cards, according to the company Samsung. A more advanced circuit design, as well as better power management features, will also prevent battery drainage.
Not much is known about the prices of such storage devices. Considering that a 256GB microSD card costs anything between $199 to $249, these will certainly not be cheap, that is for sure.