We are less than a month away from Mobile World Congress (MWC) 2018 which is going to be held at Barcelona this year. Many smartphone manufacturers like Sony, HMD Global (Nokia), Samsung have already confirmed their participation at the event, with the latest entrant being Taiwanese giant Asus. They have announced that they are going to host an event on 27th February and has even started sending out media invites.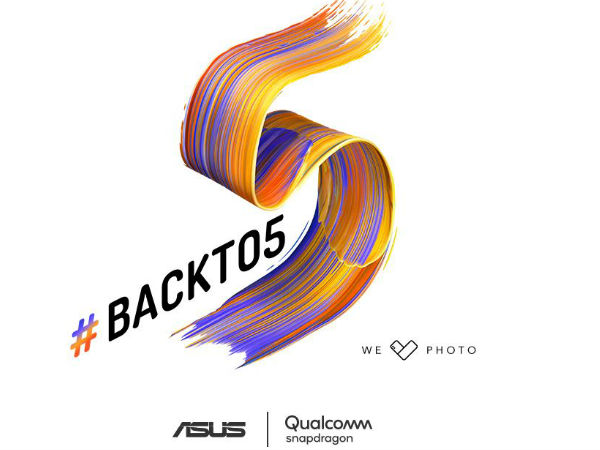 It is likely that Asus is going to launch the next generation Zenfone 5 at the event. This is because the media invites sent by the company, contains a text that reads "BACKTO5". The numeral 5 indicates that the company may launch the Zenfone 5 series at the event. At the bottom right side of the photo, there is a text that says "we love photos" which indicates that the smartphone may be focused on cameras.
The invite has also revealed that the device is going to be powered by Qualcomm Snapdragon processor, though the chipset has not been revealed yet. It is likely that the Asus Zenfone 5 is going to be powered by the latest chipset from Qualcomm, the Snapdragon 845.
Going by latest rumors that are doing the rounds, we may have three variants in the Asus Zenfone 5 series. They are likely going to be named Asus Zenfone 5 (2018), Zenfone 5 Lite and Zenfone 5 Max. We have in fact already seen the Asus Zenfone 5 Max and the Asus Zenfone 5 Lite through leaks on different social platforms.
In fact, it was only yesterday, that the Asus Zenfone 5 Max with model number ASUS_X00QD received Wi-Fi certification from Wi-Fi Alliance (WFA). According to the specifications listed on the WFA website, the device is going to run on Android Oreo 8.0 operating system out of the box and is going to support dual-band Wi-Fi a/b/g/n (2.4Ghz and 5GHz) and LTE features.
The Asus Zenfone 5 lite, on the other hand, has received its certification in Russia a few days earlier and it is also going to be powered by a Qualcomm Snapdragon processor.