With our earlier report on the exclusive aesthetical video of the upcoming Samsung Galaxy J2 (2018), we have let you know how a unique design plays a massive role. Not just that, features such as the phone's dimension of 143.1 x 72.2 x 8.6mm and how the phone will come with polycarbonate chassis design, has been informed to you through the report. The latest report regarding the same Galaxy J2 (2018) device, points out that the handset has been spotted on the accessories section of the Korean tech giant, Samsung's official website.
The website also features a couple of cases available for this upcoming device. Furthermore, the company has described the product as "Jelly Cove Cover", and states, "the cover is soft to the touch and lightweight to offer easy access to all the functions of Galaxy J2," reports Gizbot.  As per the company's statement, "it tightly fits the body of the smartphone and is perfectly compatible with it."
The Samsung Galaxy J2 (2018)'s phone cover will be available in four color variants: Black, Coral Blue, Gold, and Pink colors. This certainly points out to the fact that the smartphone will, later on, be available in the aforementioned color variants as well.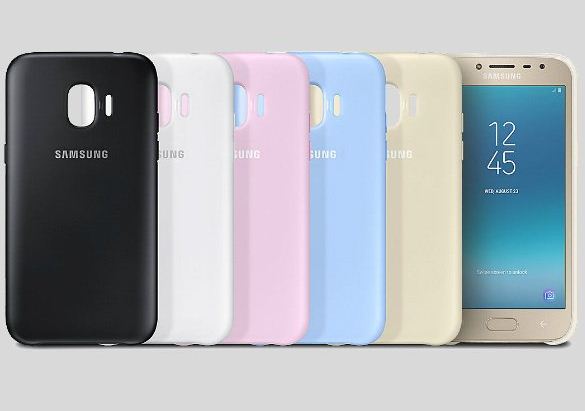 Alongside, there's a Dual Layer Cover listed and according to the company, this cover offers an extra protection than that of the Jelly Cove Cover. According to company's statement, "Protection, which does not interfere with the comfortable use of the smartphone. The Dual Layer Cover for Galaxy J2 offers double protection for your device. Its rigid outer shell protects from bumps, and the soft inner coating provides excellent cushioning."
As of now, these two covers happen to be the only accessories for the upcoming Samsung Galaxy J2 (2018) device. There's a possibility that Samsung might introduce more but they are yet to be listed on the official website.
The upcoming Samsung Galaxy J2 (2018) is expected to be priced at around $140 when it's launched, until the launch more news and leaks will come up in the coming days, (just like the one we have mentioned right here).