Mozilla has officially rolled out the Firefox Quantum version 59 for desktop PCs and Android users globally. The latest update brings better privacy options in its private browsing mode on desktops. It also brings new tools for annotating and cropping, Firefox screenshots, faster load times and better arrangements of websites on its homepage. Additionally, Firefox for Android will also get support for websites that stream videos using HLS.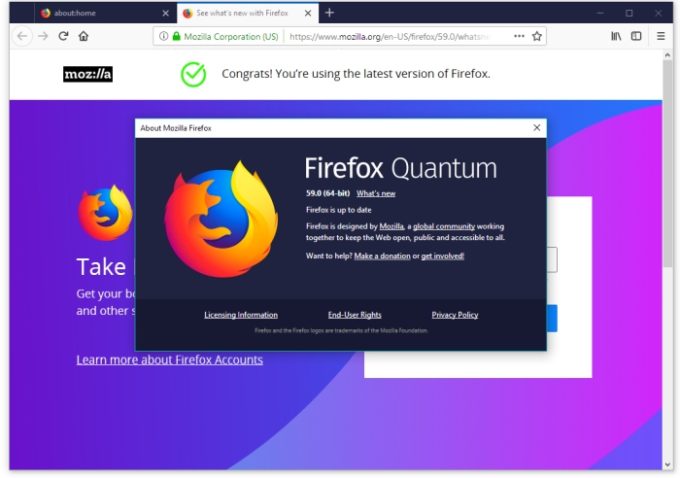 Talking about the desktop features, the Firefox 59 update brings several performance upgrades to its desktop browser. It will load websites faster with contents using cache from the user's hard disk directly or from the networked cache available for the particular website. A new feature called Off-Main-Thread-Printing is also being introduced to the Mac version of the browser to provide better graphics.
It also brings new Firefox Screenshots that include better annotation and cropping options to allow the user to draw on or crop a screenshot to display a particular part of it without using any other tools. The update also adds Real-Time Communication (RTC) capabilities, support for W3C specs and also blocks unknown websites from sending desktop notifications. In addition, the private browsing mode of Firefox will remove path information from referrers from now on to provide better privacy to users and block cross tracking.
Coming to the Android update, Firefox brings a new assist app as support to its browser. Using this feature, users will be available to search for anything by tapping the home button on their devices.  The browser will also support live streaming of videos from websites that use the HLS protocol. In addition to that, it also brings the same privacy upgrades for the private browsing mode like its desktop version.
Apart from that, a new beta version of Firefox Quantum is now available for enterprise users. The version will provide some administrative control features that will enable IT users to install additional installation tools that can be configured on multiple platforms like Windows, Mac, and Linux.