The latest offering from the Chinese smartphone manufacturer OnePlus is the OnePlus 6 that is all set to get unveiled globally on May 16 and arrive in India on May 17. With just a few days remaining for the launch event, the smartphone has been spotted in White and Black color variants online.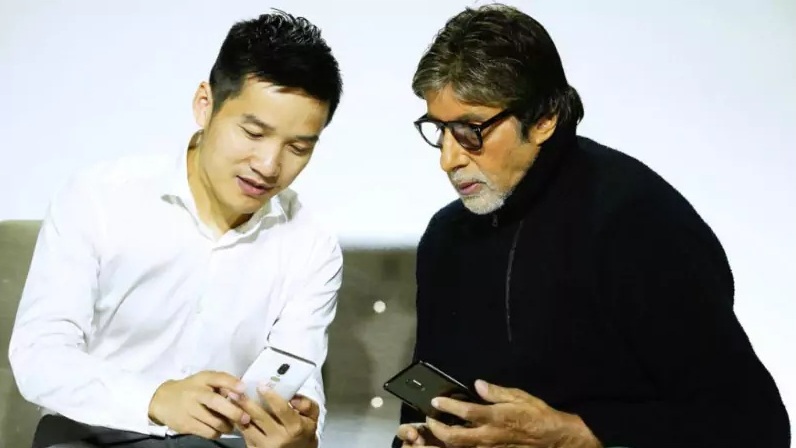 The latest revelation comes from  Bollywood superstar Amitabh Bachchan who is also the brand ambassador of OnePlus in India. He has posted a couple of images on his official Twitter handle that features himself along with the CEO of OnePlus, Pete Lau in which the color options of the OnePlus6 are clearly visible.
The tweet, however, was deleted shortly afterward and OnePlus posted a short video on its social channels that does not show the OnePlus 6 but displays the slow-motion capabilities of the camera module in the device that could actually power the Super Slo-Mo feature.
The cached version of the tweet that was originally posted by Amitabh Bachchan shows the OnePlus 6 distinctly in two color variants. As per the image, the actor can be seen holding a black color variant of the device while the CEO of OnePlus, Pete Lau can be seen with a white color variant in his hands. The actor later deleted the tweet and posted a new tweet featuring a selfie with Pete Lau that does not show the OnePlus 6.
The design of the OnePlus 6 smartphone that featured in the tweet is similar to the design that we have seen in the last few weeks in the form of leaked renders. The two images clearly indicate a vertically placed dual rear camera module at the center of the phone along with a sensor that may be the fingerprint scanner of the device. The images also indicate that the white color variant may come with a matte finish while the black variant may sport a glossy look.
In addition to the accidently posted images on Twitter, OnePlus has posted a short video on its official Twitter and Facebook channels to highlight the Slo-Mo feature of the camera. The OnePlus 6 is expected to offer video recording at a very frame rate of 960fps to support the Super Slo-Mo feature.