Google has started to roll out Android Messages on web finally after months of speculations regarding the availability of the new client. With the rollout of the new update, it will be easier for Android users to send SMS and MMS messages from their desktops or laptops. Google has announced that the rollout procedure has started and will be available to all users by next week.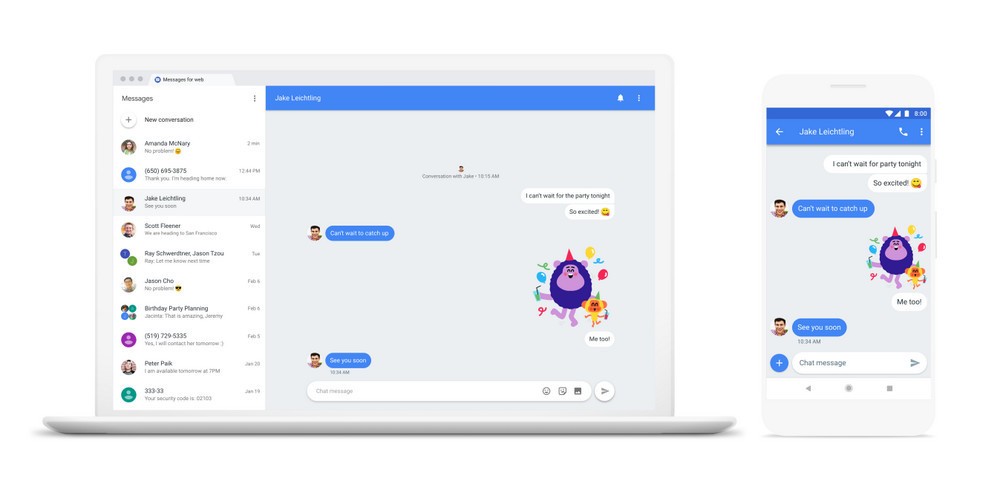 Android Messages is actually Android's official app for sending text messages (SMS and MMS) and chats. Google had plans to roll out something like Apple iMessage on Android to compete with it. Finally, it is taking place in the form of Android Messages for Web. As per a blog post by Google, in addition to messages, images and stickers are also supported in the web version of the app.
This is, in fact, the first step of Google towards a "Chat" application that will help it to compete with apps like Whatsapp and Facebook Messenger that both have separate web versions. It may also take on iMessages on iOS that come with similar features and functions.
To use the latest feature, users will have to update the Android Messages app on their smartphone to the latest version. Then you need to visit the Android Messages site on your PC and scan a QR code using the Android Messages mobile application to link up your PC with your smartphone. In order to scan the QR Code, you need to open the Android Messages app on your smartphone and tap on the three dotted menus on the top right corner. Then you need to select Messages for Web. It is to be noted however that this feature is not available now and will only work after the rollout is completed for all users.
 Google is also rolling out some new features to the Android Messages app. It now comes with an integrated GIF support to send animated stickers; a smart reply feature that can suggest texts and stickers for incoming messages. Google has also made it easier to copy and paste passwords and other verification codes that are sent via texts.