Japanese tech giant Sony is expected to launch the Xperia XZ3 smartphone soon after recently unveiling its flagship Xperia XZ2 device at the MWC 2018 held in February. A specification sheet of the alleged Sony Xperia XZ3 smartphone has been leaked online courtesy of Japanese website sumahoinfo and it shows that the device may arrive with a similar screen panel to the Xperia XZ2. However, the device is much thinner and also features more RAM capacity.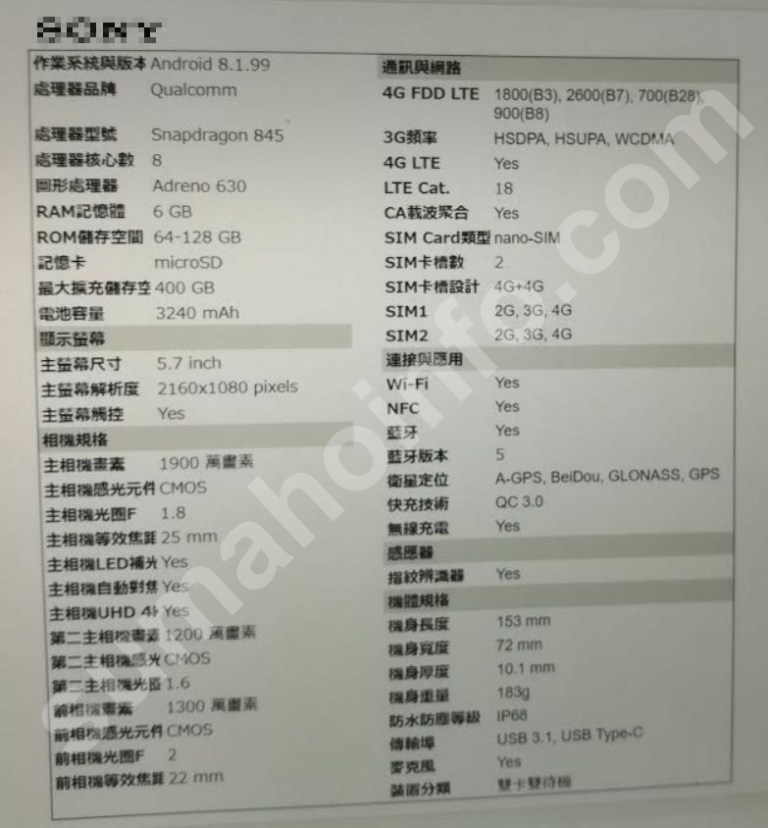 While the Xperia XZ2 featured a 19-megapixel rear camera, the Sony Xperia XZ3 may arrive with a dual rear camera setup that may include the same 19-megapixel camera but with a wider f/1.8 aperture and another 12-megapixel camera with f/1.6 aperture. It will feature a 13-megapixel sensor for selfies. Apart from that, it is expected to arrive with 6GB of RAM and a slighter larger battery than the Xperia XZ2.
 Talking about the Xperia XZ2 Premium, the smartphone comes with a 5.8-inch 4K display with HDR support. The display is also said to be 11% and at least 30% brighter than the display of the Xperia XZ2. It is powered by a Qualcomm Snapdragon 845 processor with 6GB of RAM.
On the optics front, the Xperia XZ2 premium features a dual rear cameras setup that includes a black and white sensor and a color sensor.  The cameras are capable of taking pictures with a maximum ISO of 51,200 while for video it is 12800.
Sony has also claimed that its AUBE fusion image signal processor can combine data from both the sensors apart from reducing noise and image optimization for low light conditions. The dual rear cameras will also include a bokeh mode and users will be able to use the feature with the Monochrome sensor.
If the specification sheet of the Sony Xperia XZ3 turns out to be true then it will be interesting to see what Sony brings to the stable for its upcoming device.