The truth is that when you have a hotmail account, you will always aim to get the highest degree of productivity from it. Many people are not yet aware of the fact that apart from setting the way you want to view your messages, which comes with options like size view, page view and date view, one can still sort his messages in a way that it will be easier for him to store and access whenever he needs to read them. For me, this is perhaps one of the best. Yes, there are many other things that are based on the technicalities involved when you want to make maximum use of your www.hotmail.com account. But, getting your messages well sorted is very essential. If you have a kind of job that sees you send and receive a lot of emails on a daily basis, there might be tasks where you need only emails from a particular group.  You will have a very difficult time finding and matching these if you do not set the message sorting option the way it will suite you.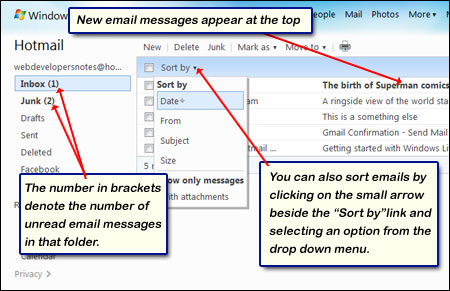 Procedures to set the message sorting options
Now, this is somehow complex if you do not pay proper attention to it. But if you do, you will find out that it is one of the most convenient things to do. When you want to set the rules for sorting out your messages, you have to do it this way. Start from the "settings" option, on the round key at the top right side of your inbox.
This will display the main options page for you. Look at the "customizing outlook" option, and you will see many options below the main option. The fourth in the line of these sub options is the option that says "rules for sorting new messages." Click on this option and wait for the page it will take you to.
When you click on the above mentioned option, it will take you to a page that has all the options in display. You will see a bar that has organized all the options for you to choose. The bar organized these options in this order. "Show all rules" is the number one option, which indicates that all messages will be showed.  The next option indicates "show only move and delete rules," the next reads "show only add and remove category rules," the next reads "show only forwarding rules," while the other reads "show only flag rules." Just choose the one you are comfortable with and click.
But before this rules, you are also given the chance to make your own rules. On top of the already provided rules, you will get two options written "new" or "delete." If you want to make your own rules, just click "new" and it will take you to the page that reads "create new rules."
Below this, you will get options asking which messages you want the rules to apply. Here, you select the address of the sender and other things. Below this, you have other options including move to folder, move to a new folder, delete these messages, flag, forward to, etc. Select the options you need and click yes.